It's All About Him
I want us to look again at the last two verses from our last devotional, 1 Timothy 6:18-19,
Let them do good, that they be rich in good works, ready to give, willing to share, storing up for themselves a good foundation for the time to come, that they may lay hold on eternal life.
I think it is beautiful the way verse 19 ends, …that they may lay hold on eternal life.  Paul is writing to believers here, and he is not saying they must do this so that they can get saved.
Rather, I think he is saying that when they are rich in good works, ready to give, willing to share, then they will lay hold on what eternal life is all about.  It is not about the things you possess; it is not about the blessings God gives you.  It is about a relationship with Him.  Jesus said in John 17:3, "This is eternal life, that they may know You, the only true God, and Jesus Christ whom You have sent."
If you are blessed, realize the main thing is not your riches and wealth.  They can be very transitory.
I have a friend who, years ago, migrated from a country in Central America that had experienced a military coup.  Her family was quite well off, having property and wealth that had been passed down through several generations.
But after the coop, the new government seized all of the families properties and wealth. All was lost overnight.
This story could have turned out badly except that this woman is an exceptional Christian with a great attitude.  She has built a successful life here in the U. S and has chosen not to be bitter or resentful over the past. She has kept her trust in God, realizing that no matter what happens if she still has Him she will be alright.
Friend, keep your eyes on God and keep your trust anchored in Him. He is what life-real life-eternal life is all about! 
---
Visit the Answers with Bayless Conley website for more ways to connect with God.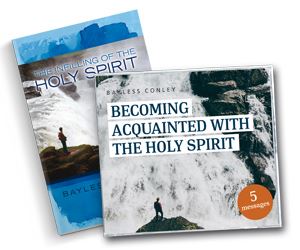 FEATURED RESOURCE

Know God in a deeper way!

The Holy Spirit's presence brings hope, joy, and comfort; and He longs to walk in deep fellowship with you every day.

We want to help you experience a more intimate friendship with God, by sending you the Knowing the Holy Spirit package.

It includes Bayless Conley's The Infilling of the Holy Spirit  booklet and his powerful 5-message series called Becoming Acquainted with the Holy Spirit.
It includes:

1. The Presence, Power, and Person of the Holy Spirit DVD
2. Expecting the Holy Spirit's Help DVD
3. Evidence of a Spirit-Filled Life CD
4. Speaking in Tongues CD
5. The Holy Spirit's Work in Our Hearts CD

Bayless Conley unpacks the benefits and evidences of being filled with the Spirit of God.

Find out what it means to live a Spirit-filled life!