You're Not Stuck
1 Corinthians 10:13 says,
No temptation has overtaken you except such as is common to man; but God is faithful, who will not allow you to be tempted beyond what you are able, but with the temptation will also make the way of escape, that you may be able to bear it.
The word temptation in this verse also means test or trial.  With that in mind, here are a couple of thoughts to encourage you today. 
Whatever test, trial, or temptation you are facing today, it is "common to man."  That means that you are not the only one who has gone through whatever you are facing. It is comforting to know that others have faced similar problems before us and made it through!
God makes a way of escape with the trial or temptation.  That means you're not stuck!  Before your difficulty ever arose, God designed a way of escape.  And that means of escape comes with the problem.
So if you find yourself embroiled in trials, tests, or temptations today, start looking for God's way of escape—it exists.  Trust Him to guide you safely through and out of your difficulties!  
---
Visit the Answers with Bayless Conley website for more ways to connect with God.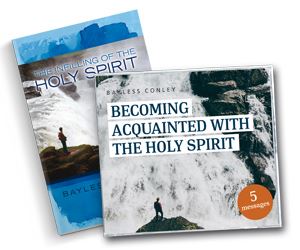 FEATURED RESOURCE

Know God in a deeper way!

The Holy Spirit's presence brings hope, joy, and comfort; and He longs to walk in deep fellowship with you every day.

We want to help you experience a more intimate friendship with God, by sending you the Knowing the Holy Spirit package.

It includes Bayless Conley's The Infilling of the Holy Spirit  booklet and his powerful 5-message series called Becoming Acquainted with the Holy Spirit.
It includes:

1. The Presence, Power, and Person of the Holy Spirit DVD
2. Expecting the Holy Spirit's Help DVD
3. Evidence of a Spirit-Filled Life CD
4. Speaking in Tongues CD
5. The Holy Spirit's Work in Our Hearts CD

Bayless Conley unpacks the benefits and evidences of being filled with the Spirit of God.

Find out what it means to live a Spirit-filled life!