Unlikely Vessels
1 Corinthians 1:26-29 says,
For you see your calling, brethren, that not many wise according to the flesh, not many mighty, not many noble, are called.  But God has chosen the foolish things of the world to put to shame the wise, and God has chosen the weak things of the world to put to shame the things which are mighty; and the base things of the world and the things which are despised God has chosen, and the things which are not, to bring to nothing the things that are, that no flesh should glory in His presence.
God delights in calling and using those the world passes by and counts as nothing.  One old preacher said, "God isn't looking for golden vessels, God isn't looking for silver vessels, God is looking for yielded vessels."  I think that is true.
It is amazing what God can do through someone's life who doesn't have to have the credit.
You may feel like you do not have much to offer.  If that is the case, then you are perfect!  When God does great things through you, then He will get the credit.  People will know it was Him and not you!
God is looking for yielded vessels that He can use in a dynamic, community-altering way.
Why not say today, "Here I am Lord, use me;" and after praying that simple prayer, get ready.  God may bring some amazing opportunities your way to step out and be used for His glory. 
---
Visit the Answers with Bayless Conley website for more ways to connect with God.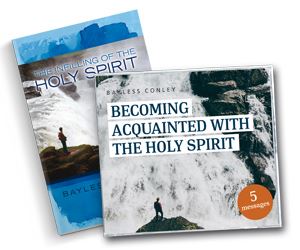 FEATURED RESOURCE

Know God in a deeper way!

The Holy Spirit's presence brings hope, joy, and comfort; and He longs to walk in deep fellowship with you every day.

We want to help you experience a more intimate friendship with God, by sending you the Knowing the Holy Spirit package.

It includes Bayless Conley's The Infilling of the Holy Spirit  booklet and his powerful 5-message series called Becoming Acquainted with the Holy Spirit.
It includes:

1. The Presence, Power, and Person of the Holy Spirit DVD
2. Expecting the Holy Spirit's Help DVD
3. Evidence of a Spirit-Filled Life CD
4. Speaking in Tongues CD
5. The Holy Spirit's Work in Our Hearts CD

Bayless Conley unpacks the benefits and evidences of being filled with the Spirit of God.

Find out what it means to live a Spirit-filled life!