For Just a Little While
Today's Scripture will start with the very last word of 1 Peter 1:4, just so you know who it is talking about, and go through verse 7,
…you, who are kept by the power of God through faith for salvation ready to be revealed in the last time.  In this you greatly rejoice, though now for a little while, if need be, you have been grieved by various trials, that the genuineness of your faith, being much more precious than gold that perishes, though it is tested by fire, may be found to praise, honor, and glory at the revelation of Jesus Christ.
Notice in verse 6 it says, Though now for a little while, if need be, you have been grieved by various trials.  That phrase "a little while" literally means a season.  The King James Version says, Though now for a season, if need be, ye are in heaviness through manifold temptations.
I like the phrase "a little while".  That tells me the season is going to end.  It is not forever.  Every season ends.  Winter ends.  Spring ends.  Summer ends.  Fall ends.  Every season has a beginning, and every season has an end.
If you are in a trial right now and feeling the weight of it, you are grieved because of it,  I have good news.  It will not be forever.  Things are going to change.  It may not seem like it, but that season will come to an end.
Even if you are not experiencing a trial today, I am confident you have gone through such a season, and it is likely that you will probably experience such a season again.
When you do, or if you are today, be encouraged.  God's Word wants you—and me—to remember it is for just a little while. 
---
Visit the Answers with Bayless Conley website for more ways to connect with God.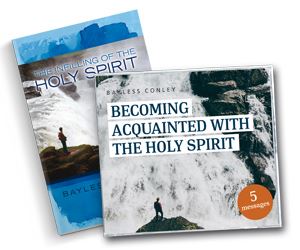 Know God in a deeper way!
The Holy Spirit's presence brings hope, joy, and comfort; and He longs to walk in deep fellowship with you every day.
We want to help you experience a more intimate friendship with God, by sending you the Knowing the Holy Spirit package.
It includes Bayless Conley's The Infilling of the Holy Spirit  booklet and his powerful 5-message series called Becoming Acquainted with the Holy Spirit.
It includes:
1. The Presence, Power, and Person of the Holy Spirit DVD
2. Expecting the Holy Spirit's Help DVD
3. Evidence of a Spirit-Filled Life CD
4. Speaking in Tongues CD
5. The Holy Spirit's Work in Our Hearts CD
Bayless Conley unpacks the benefits and evidences of being filled with the Spirit of God.
Find out what it means to live a Spirit-filled life!