Builder and Protector
Psalm 127:1-2 says,
Unless the LORD builds the house, they labor in vain who build it; unless the LORD guards the city, the watchman stays awake in vain. It is vain for you to rise up early, to sit up late, to eat the bread of sorrows; for so He gives His beloved sleep.
These verses have been favorites of mine for a long time.
If ever I am tempted to worry about the Church, I remember that it is His house and ultimately only He can build it. My efforts, by themselves, are in vain.
He is not only the builder of the Church, He is the protector of it as well. These truths take a lot of weight off of my shoulders and help me sleep well at night. And I believe that is the way God wants it.
Too many of God's children sit up late, worrying and eating the bread of sorrows. Whether you are a pastor or a business owner or a stay-at-home mom, learn the secret of casting your cares on God.
He is the builder and protector of your life, and He knows the battles you face. Trust Him today and sleep well tonight!
---
Visit the Answers with Bayless Conley website for more ways to connect with God.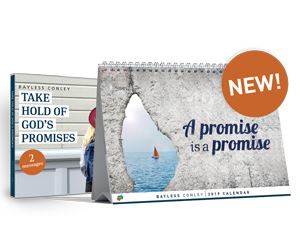 2019 Promises Calendar Bundle
Make God's promises for you a reality!
God's Word is packed with promises He's made to His people throughout the ages. If you find yourself in a time of need, it's time to take hold of a promise and reap the blessings He has in store for you. To do that, you need to understand His nature and your role in the process.
We want to help you experience the blessings of God's promises with the Promises resource bundle. This package includes Bayless Conley's 2019 Promises calendar, along with his 2-disc series messages (on CD or DVD).