Tithing
In Matthew 23:23, Jesus speaks about the issue of tithing in this way,
"Woe to you, scribes and Pharisees, hypocrites!  For you pay tithe of mint and anise and cummin, and have neglected the weightier matters of the law:  justice and mercy and faith.  These you ought to have done, without leaving the others undone."
Jesus tells us, "These you ought to have done, without leaving the others undone."  Yes, they should tithe, but the things He lists are the most important issues.
While we will touch on these issues in later devotionals, I want to point out the fact that Jesus does say we should tithe.    
The Living Bible paraphrase of this verse is helpful,  "For you tithe down to the last mint leaf in your garden, and ignore the important things—justice and mercy and faith.  Yes, you should tithe, but you shouldn't leave the more important things undone."
You should tithe.  The first ten percent of your income, or the first ten percent of the increase that God brings to you, is called a tithe.  The Bible says in the last chapter of Leviticus that the tithe is holy, and it belongs to the Lord.
So you should tithe.  That is very important.  In fact, I believe it is the first step in getting God involved in your finances, and an important step in you getting control of your finances. 
If you are not tithing, I want to encourage you to open your heart to God's Word in this area and consider the possibilities that He sets before you.
---
Visit the Answers with Bayless Conley website for more ways to connect with God.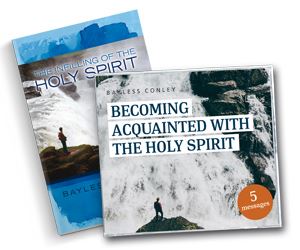 Know God in a deeper way!
The Holy Spirit's presence brings hope, joy, and comfort; and He longs to walk in deep fellowship with you every day.
We want to help you experience a more intimate friendship with God, by sending you the Knowing the Holy Spirit package.
It includes Bayless Conley's The Infilling of the Holy Spirit  booklet and his powerful 5-message series called Becoming Acquainted with the Holy Spirit.
It includes:
1. The Presence, Power, and Person of the Holy Spirit DVD
2. Expecting the Holy Spirit's Help DVD
3. Evidence of a Spirit-Filled Life CD
4. Speaking in Tongues CD
5. The Holy Spirit's Work in Our Hearts CD
Bayless Conley unpacks the benefits and evidences of being filled with the Spirit of God.
Find out what it means to live a Spirit-filled life!