Tithing Today?
In Malachi 3:10-11, God says,
"Bring all the tithes into the storehouse, that there may be food in My house, and try Me now in this," says the LORD of hosts, "If I will not open for you the windows of heaven and pour out for you such blessing that there will not be room enough to receive it.  And I will rebuke the devourer for your sakes, so that he will not destroy the fruit of your ground, nor shall the vine fail to bear fruit for you in the field," says the LORD of hosts. 
Those are pretty amazing promises!  God says when we bring the first tenth to Him, He will open the windows of heaven and pour out a blessing we cannot contain.  He even invites us to test Him in this area!  (As far as I know there is no other place in the Bible where God does that.)
Notice, too, that He says He will rebuke the devourer.  While this was written to an agrarian society whose prosperity was measured in vineyards, crops, and their livestock, you can transpose this principle right into the era in which we live.  God will still bless us, and He will still rebuke the devourer for our sakes.
Years ago, in a small church in Mexico, a friend of mine was teaching on tithing.  A poor man in the church got angry and stormed out.  Later that day, he read the verses from Malachi again and decided to put God to the test.  "Could God fulfill His promise—even in my circumstance?" he thought.
That poor villager later testified—interrupting a service and demanding that tithing needed to be taught again—"because these people need it!"  He told how he had been blessed like never before since he started giving one-tenth of his earnings to the church.
God is not limited by the circumstances that surround us.  He can bless us no matter where we are if we will "try Him" and bring all the tithe into His storehouse.
---
Visit the Answers with Bayless Conley website for more ways to connect with God.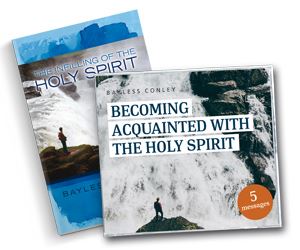 Know God in a deeper way!
The Holy Spirit's presence brings hope, joy, and comfort; and He longs to walk in deep fellowship with you every day.
We want to help you experience a more intimate friendship with God, by sending you the Knowing the Holy Spirit package.
It includes Bayless Conley's The Infilling of the Holy Spirit  booklet and his powerful 5-message series called Becoming Acquainted with the Holy Spirit.
It includes:
1. The Presence, Power, and Person of the Holy Spirit DVD
2. Expecting the Holy Spirit's Help DVD
3. Evidence of a Spirit-Filled Life CD
4. Speaking in Tongues CD
5. The Holy Spirit's Work in Our Hearts CD
Bayless Conley unpacks the benefits and evidences of being filled with the Spirit of God.
Find out what it means to live a Spirit-filled life!