When God Has Our Hearts
In Matthew 6:25-26, Jesus applies all we have covered over the last few days,
"Therefore I say to you, do not worry about your life, what you will eat or what you will drink; nor about your body, what you will put on. Is not life more than food and the body more than clothing? Look at the birds of the air, for they neither sow nor reap nor gather into barns; yet your heavenly Father feeds them. Are you not of more value than they?"
Given the context of the preceding verses, Jesus is telling us that if God is first in our giving, then He indeed has our heart. If He has our hearts, He can guide us and meet our needs, and we have no need to worry about provision for our life.
He feeds the birds. He will take care of you. Do not worry. Obey Him, trust Him, and look to Him for your daily bread.
Matthew 6:33 says,
"But seek first the kingdom of God and His righteousness, and all these things shall be added to you."
---
Visit the Answers with Bayless Conley website for more ways to connect with God.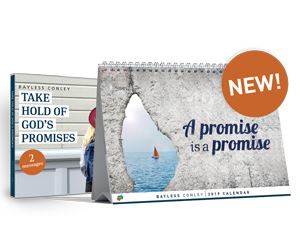 2019 Promises Calendar Bundle
Make God's promises for you a reality!
God's Word is packed with promises He's made to His people throughout the ages. If you find yourself in a time of need, it's time to take hold of a promise and reap the blessings He has in store for you. To do that, you need to understand His nature and your role in the process.
We want to help you experience the blessings of God's promises with the Promises resource bundle. This package includes Bayless Conley's 2019 Promises calendar, along with his 2-disc series messages (on CD or DVD).