Power
In Acts 9:32-35, we are given the fifth and final "P" of evangelism, and that is power,
Now it came to pass, as Peter went through all parts of the country, that he also came down to the saints who dwelt in Lydda.  There he found a certain man named Aeneas, who had been bedridden eight years and was paralyzed.  And Peter said to him, "Aeneas, Jesus the Christ heals you.  Arise and make your bed."  Then he arose immediately.  So all who dwelt at Lydda and Sharon saw him and turned to the Lord.
Two entire cities turned to Christ because of one display of God's power!  One man who had been paralyzed was healed by the Lord Jesus Christ, and two cities came to God.
We have the same gospel. It is the same Holy Spirit; we serve the same blessed Savior, Jesus Christ, who is the same yesterday, today, and forever. We have to pray that God will, if necessary, do the miraculous to save people.
Paul, writing in the book of Romans, says he fully preached the gospel with miracles, signs, and wonders.  People will respond today just like they did then. But we need to be bold, step out, and pray for things to happen.
When I was living in Oregon, there was an Indian girl who was very sick and actually at the point of death. The doctors told her she was going to die. She came to a small meeting one night and the evangelist prayed for her.  She was healed and then gave her life to Christ. As a result, her dad, a famous rodeo rider, got saved, and her mom was saved also. Then a large group of people from her tribe came to Christ as well.
Evangelism through power. We need to trust God for the supernatural. 
---
Visit the Answers with Bayless Conley website for more ways to connect with God.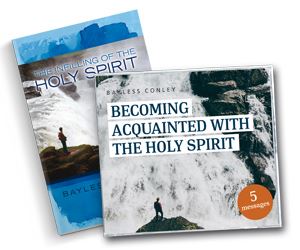 FEATURED RESOURCE

Know God in a deeper way!

The Holy Spirit's presence brings hope, joy, and comfort; and He longs to walk in deep fellowship with you every day.

We want to help you experience a more intimate friendship with God, by sending you the Knowing the Holy Spirit package.

It includes Bayless Conley's The Infilling of the Holy Spirit  booklet and his powerful 5-message series called Becoming Acquainted with the Holy Spirit.
It includes:

1. The Presence, Power, and Person of the Holy Spirit DVD
2. Expecting the Holy Spirit's Help DVD
3. Evidence of a Spirit-Filled Life CD
4. Speaking in Tongues CD
5. The Holy Spirit's Work in Our Hearts CD

Bayless Conley unpacks the benefits and evidences of being filled with the Spirit of God.

Find out what it means to live a Spirit-filled life!