He Has Said, So We May Say
In our last few devotionals, we have been talking about fear, and how to be free from it.  Today, I want to give you a final thought to consider on fear.  It is based on Hebrews 13:5-6,
Let your conduct be without covetousness; be content with such things as you have.  For He Himself has said, "I will never leave you nor forsake you."  So we may boldly say:  "The LORD is my helper; I will not fear.  What can man do to me?"
I want you to notice what the Bible says,  He Himself has said…So we may boldly say.  God says something, so you can say something.
What does God say?  He says He will never leave you.  He says He will never forsake you.  As a result you can say, "The Lord is my helper; I will not fear.  What can man do to me?"
When you understand that God will never leave you or forsake you, you can live without fear.  And that freedom from fear will be reflected in both your actions and in your speech.
What are you facing today?  Would you be afraid if God was standing beside you saying, "It's alright.  I am here"?  Well He is with you!  He said He would never leave you or abandon you!  You may not see or feel Him, but He is with you—now and always.
It is time to start acting and speaking like you believe it.
Boldly say, "The Lord is helping me!  I will not fear!"
---
Visit the Answers with Bayless Conley website for more ways to connect with God.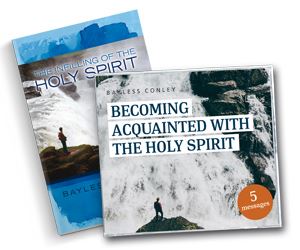 FEATURED RESOURCE

Know God in a deeper way!

The Holy Spirit's presence brings hope, joy, and comfort; and He longs to walk in deep fellowship with you every day.

We want to help you experience a more intimate friendship with God, by sending you the Knowing the Holy Spirit package.

It includes Bayless Conley's The Infilling of the Holy Spirit  booklet and his powerful 5-message series called Becoming Acquainted with the Holy Spirit.
It includes:

1. The Presence, Power, and Person of the Holy Spirit DVD
2. Expecting the Holy Spirit's Help DVD
3. Evidence of a Spirit-Filled Life CD
4. Speaking in Tongues CD
5. The Holy Spirit's Work in Our Hearts CD

Bayless Conley unpacks the benefits and evidences of being filled with the Spirit of God.

Find out what it means to live a Spirit-filled life!