The Snare of Fear
Proverbs 29:25 tells us,
The fear of man brings a snare, but whoever trusts in the LORD shall be safe.
A snare is a noose used for catching an animal.  Fear will cause you to be snared or trapped, just like an animal.
I have a friend in the church who has a very large nut tree in his yard, which the squirrels regularly raid.  He put this big net over the tree, but it did not seem to deter the squirrels at all.  So he finally got a trap and set it up on the roof right next to the nut tree.  To date, he has caught about 120 squirrels.
When the squirrel is in the trap, it is totally at his mercy.  It can't go anywhere.  He happens to be a fairly merciful gentleman, so he takes them over to a local park and lets them go.
When fear gets a hold of your life, you become like one of those trapped squirrels—you are not going anywhere.  You are at its mercy.  You will not progress spiritually.  It keeps you bound.  The fear of man can keep you from obeying God; it will keep you from pleasing God.  It will keep you from the joy you would experience when you trust God.
In fact, there is a contrast in our verse today.  The man or woman who is bound by the fear of man, will not be trusting God in some area of his life.  Look at the two parts of the verse together:  The fear of man brings a snare, but… in contrast …whoever trusts in the Lord shall be safe.
Do not allow the fear of man to control your life.  Instead, trust in the Lord. 
---
Visit the Answers with Bayless Conley website for more ways to connect with God.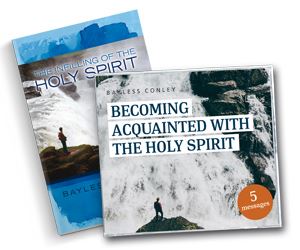 FEATURED RESOURCE

Know God in a deeper way!

The Holy Spirit's presence brings hope, joy, and comfort; and He longs to walk in deep fellowship with you every day.

We want to help you experience a more intimate friendship with God, by sending you the Knowing the Holy Spirit package.

It includes Bayless Conley's The Infilling of the Holy Spirit  booklet and his powerful 5-message series called Becoming Acquainted with the Holy Spirit.
It includes:

1. The Presence, Power, and Person of the Holy Spirit DVD
2. Expecting the Holy Spirit's Help DVD
3. Evidence of a Spirit-Filled Life CD
4. Speaking in Tongues CD
5. The Holy Spirit's Work in Our Hearts CD

Bayless Conley unpacks the benefits and evidences of being filled with the Spirit of God.

Find out what it means to live a Spirit-filled life!