Are Daddy Issues Hurting Your Relationship?
By: Gina Smith
"For to us a child is born, to us a son is given; and the government shall be upon his shoulder, and his name shall be called Wonderful Counselor, Mighty God, Everlasting Father, Prince of Peace." - Isaiah 9:6
The term 'daddy issues' has gained popularity, and it can refer to both men and women's issues with their fathers. This phrase is used to describe a person who has a broken relationship with his or her father. One where there is little or no trust present. When this is present in women, you normally see an unhealthy need for approval, support, and love. When it is present in men, the bigger struggle tends to be a need for approval and self-worth, although every person is unique, and daddy issues can manifest themselves in many different ways. This can progress into adulthood, resulting in challenges within relationships.
Whether you are a man or a woman, when you enter into marriage with any type of "emotional wound" from your childhood, it can add an extra challenge into the relationship. Thankfully, there is hope found in Isaiah chapter 6!
When Isaiah announces the birth of the promised King, he is announcing the birth of the one who would help and sustain us through dark times. This announcement of the king uses four significant and important names. The third name he used was the name: Everlasting Father.
The name Everlasting Father means "Eternal Father" or "Father Forever." This means that Jesus will care for his people forever, as a father cares for his children. God came, in the flesh – dwelling among us in the person of Jesus – in order to give us wisdom, protection, fatherly care, and peace. Isaiah does not refer to Jesus in the same way he refers to God the Father. He is describing the nature of the Messiah as "fatherly."
If you have entered into your marriage with a distorted view of fatherhood, then you might be walking around with a void that is hard to describe. But, when we spend time in the Word of God, asking him to show us himself, spending time in his presence getting to know our Heavenly Father - the Everlasting Father – we will see the perfect picture of a father, a picture that will never be perfectly portrayed by any earthly father, no matter how good they may be.
What do we know about our perfect Father? He is:
- a Father who will never leave us fatherless,
- who has a perfect heart that is full of compassion,
- whose never-ending love is perfect,
- who leads and takes care of his children,
- and one who is faithful to guide, protect and provide for our every need.
What does this have to do with our marriage? Well, when we get to know our Messiah, we will not have an unhealthy need to look to our spouses (or any other person) for approval and self-worth. In Jesus we find perfect approval and love.
Do you need to take some time to get to know, or to be reminded of, the tender care of your Everlasting Father? He is the only Father who will never change and who will perfectly show affection, protection, and compassion for you. And when memories of those daddy wounds begin to enter your mind, or the mind of your spouse, take some time to sit down together and read the Word of God, reminding each other of your perfect Heavenly Father who offers a promise of hope. And then lean into Him, as a couple, today!
Related Resource: Author and speaker Kia Stephens has a mission to help women who grew up without the love and affirmation of their biological father. In her FREE podcast, Hope for Women with Father Wounds, Kia provides encouragement, healing and practical wisdom for these often-overlooked women. Listen to every episode for FREE on LifeAudio.com:
---
Gina Smith is a writer and author who has been married for 31 years to Brian, a college professor and athletic trainer. For the past 20+ years Gina and her husband have served on a Christian college campus as the on-campus parents, and her husband has been a professor and dean of students. They have lived on the campus where they raised both of their now married children. In her spare time, she loves to write, writes for several websites, and recently authored her first book "Grace Gifts: Practical Ways To Help Your Children Understand God's Grace". She also writes at her personal blog: ginalsmith.com.
Listen to our chart-topping, FREE family podcast - Famous at Home!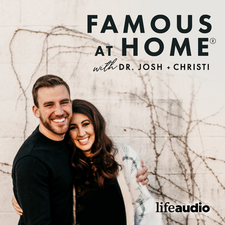 We live in a society that conditions us with a deep desire to be famous, well-spoken of, and admired. Yet, it's our family that often get our leftovers. Your biggest fans already live under your roof. You'll never be more famous anywhere than you are at home.
At Famous at Home, Dr. Josh and Christi Straub help you put a plan in place to make the most of the time with your family and learn to harness the power of emotion for deep relational connection with your biggest fans.
Each week, Josh and Christi host the Famous at Home Podcast (amassing more than 2.5 million downloads) to help you focus on what matters most in your family.
Listen below to one of Josh and Christi's most popular episodes on simplifying family life: