The Greatest Protection for Your Marriage - Crosswalk Couples Devotional - April 7
The Greatest Protection for Your Marriage
By Gina Smith
I am a person who loves routine. I love the predictable. Change has a tendency to rock my world. But the one change I do welcome, and even ask God for, is for God to continue to grow my inward person. I never want to be set in my ways. I want to be consistently growing, being renewed, and becoming more like Jesus.
Romans 12 exhorts us: "… be transformed by the renewal of your mind, that by testing you may discern what is the will of God, what is good and acceptable and perfect."
In the same way, I want to be continually growing in my marriage relationship. I don't want it to grow cold and I don't want to take my husband for granted. With that in mind, he and I are regularly looking for ways to connect and grow closer. Whether it is exercising together, having a regular, simple date night, taking a trip together, or supporting each other in our God-given professions, my husband and I work at growing together in our marriage friendship and relationship.
But as much as we might try to connect and stay close, there is a knitting together of hearts that can only take place when we choose to come into the presence of God. This can only happen when we make it a habit to seek God, first and foremost, before we seek out any resource or person.
Matthew 6 reminds us to "seek first the kingdom of God and his righteousness…" Jeremiah 29 tells us that will seek God and find him, when we seek him with all our heart."
The times I have stepped back and taken an objective look at myself and my marriage, asking God to show me what I need to see, I have clearly seen habits, attitudes, and responses that have grieved me.
Those exposed issues are there because I've been influenced more by my own sin or the culture than by the Word of God. Yet I am comforted by the knowledge that there is nothing that the presence of God cannot overcome.
As those habits and attitudes have been exposed, and I've brought them to God asking Him to change me, I have found myself experiencing more of the presence of God. When that happens, my marriage becomes more God-centered.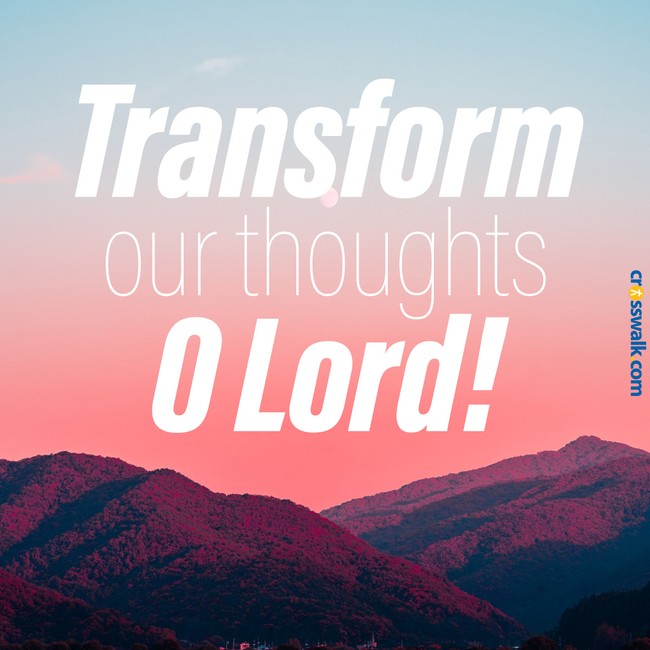 Why does this matter? Because Satan is on a mission to kill, steal and destroy marriage. His attacks are constant. 1 Peter 5:8 tells us to "Be sober-minded; be watchful. Your adversary the devil prowls around like a roaring lion, seeking someone to devour."
Our enemy wants to cause confusion, division, and conflict. Our only hope is found as we sit in God's presence, interrupting Satan's attacks, and allow God to flood us with his perspective, grace, and love for our spouse.
Here are two more verses to meditate on and apply to your marriage today:
"Therefore prepare your minds for action. Be sober-minded. Set your hope fully on the grace to be given you at the revelation of Jesus Christ." - 1 Peter 1:13
"But the end of all things is at hand: be ye therefore sober, and watch unto prayer." 1 Peter 4:7
Let's pray for our marriages today:
Oh, Father! Please cause us to desire to sit in your presence. We want to allow you to transform our minds. We need you to give us your love for each other. We need your presence in our marriage so that our heart's might be knit together in the way that only you can do! In Jesus' Name, Amen.
---
Gina Smith is a writer and author, and currently writes for Crosswalk.com, iBelieve.com, is a mentor and writer for Million Praying Moms, and is a devotional writer for the Million Praying Moms – Pray The Word Journal. Gina also runs a private, online encouragement group for moms of boys called "The MOB Society." Gina recently authored her first book "Grace Gifts: Practical Ways To Help Your Children Understand God's Grace." You can also find her at the "Million Praying Moms" Podcast and on MOB Live!
You can find Gina at her personal blog ginalsmith.com.
It's time we get real about marriage & relationships! Join marriage coach, Dana Che, as she and her guests deliver witty, inspirational, real relationship talk from a faith-based perspective. New episodes of the Real Relationship Talk Podcast drop every Tuesday.