4 Ways to Have Godly Expectations in Marriage - Crosswalk Couples Devotional - February 15
4 Ways to Have Godly Expectations in Marriage
by Lynette Kittle
"For it is God who works in you to will and to act in order to fulfill His good purpose" - Philippians 2:13
My daughters and I love to watch wedding shows where cameras follow a couple through their engagement and planning of their weddings. We enjoy hearing how couples met, of their unique ideas for their wedding ceremonies, along with following the process of selecting the bridal gown, flowers, cake, and more.
During this process engaged couples are often asked what drew them to their future spouse. In response couples often say things like, "He makes me happy" or "She makes me a better person," or "He or she completes me."
However, with such high expectations going into marriage, are couples setting themselves up to be disappointed and let down by their spouse and in the marital relationship, expecting a spouse to meet needs that only God can meet?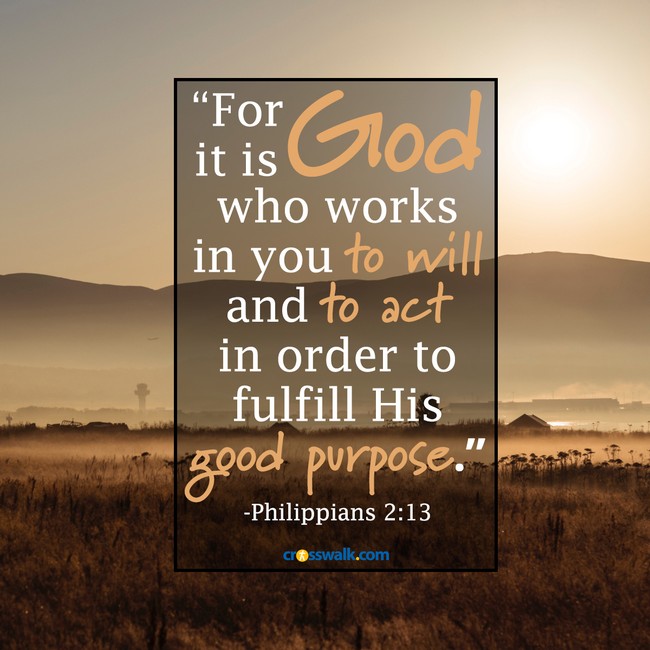 What happens if after tying the knot spouses discover they aren't still making each other happy? Or they start bringing out the worst in each other rather than the best? Or instead of feeling complete, it seems like their spouse is bringing out all their weaknesses and failures.
If couples enter matrimony with these expectations, they most likely will be disappointed.
So rather than looking to each other to make us happy, or to become a better person, or to complete us, we can look to God as our source. Below are four ways to start.
1. Read God's Word.
Turning to Scripture helps to enter marriage with godly expectations like understanding how God is the One who completes us, not our spouse. Colossians 2:10 explains how in Jesus, we are being made complete.
2 Corinthians 9:8 explains further, "And God is able to bless you abundantly, so that in all things at all times, having all that you need, you will abound in every good work."
2. Love First.
Relying on God's love in our marriage helps us to love our spouse, rather than waiting for our spouse to show us love first, especially during the challenging and difficult times as a couple. 1 John 4:19 tells us, "We love because He first loved us."
3. See God As Our Provider.
As well, we may think our spouse should recognize our needs without us asking but it's God who knows what we need before we ask Him. "Before they call I will answer; while they are still speaking I will hear" (Isaiah 65:24).
As Philippians 4:19 explains, "And my God will meet all your needs according to the riches of His glory in Christ Jesus."
4. Fix Our Eyes on Jesus.
Whenever we look to another person to make us happy or bring out the best in us, we have our eyes fixed on the wrong person. As Christians, we're to fix our eyes of Jesus (Hebrews 12:2).
Godly expectations in marriage come through reading God's word, loving our spouse like He loves us, seeing Him as the One who meets all our needs, and keeping our eyes fixed on Jesus.
---
Lynette Kittle is married with four daughters. She enjoys writing about faith, marriage, parenting, relationships, and life. Her writing has been published by Focus on the Family, Decision, Today's Christian Woman, iBelieve.com, kirkcameron.com, Ungrind.org, and more. She has a M.A. in Communication from Regent University and serves as associate producer for Soul Check TV.
It's time we get real about marriage & relationships! Join marriage coach, Dana Che, as she and her guests deliver witty, inspirational, real relationship talk from a faith-based perspective. New episodes of the Real Relationship Talk Podcast drop every Tuesday.