Peace beyond Our Understanding - The Crosswalk Devotional - June 14
Peace beyond Our Understanding
By Emma Danzey
Philippians 4:6-7 says, "Do not be anxious about anything, but in every situation, by prayer and petition, with thanksgiving, present your requests to God. And the peace of God, which transcends all understanding, will guard your hearts and your minds in Christ Jesus."
Do Not Be Anxious about Anything
The Bible says, "Fear not" 365 times. This is significant when thinking about the normal year having 365 days in it. People take this as an encouragement to trust in God each day because He has told us not to be afraid.
Reading or hearing, "Do not be anxious about anything" sounds like an extreme command. What about the difficult news we just got from the doctor? Or what about my child who is in college away from home? Or how about our financial struggle to pay rent next month? This is the great gift that we have been given as believers in Christ. We have eternal hope and confidence. We do not have to be worried about anything because the enemy has been defeated and we have eternal life through Jesus. This does not mean that our tough days and bad news moments will not be challenging.
John 16:33 says, "I have told you these things, so that in me you may have peace. In this world you will have trouble. But take heart! I have overcome the world." We will have troubles and trials in this sinful and broken world. We will feel real pain and experience death and suffering. However, we are to take heart because Jesus has overcome. When He tells us not to be anxious about anything. He means it. He is telling us that He is over everything and we can find rest in Him.
Prayer and Petition, with Thanksgiving
Philippians tells us how we can fight the temptation to worry. We can present our requests to God through prayer and petition with thanksgiving. This means that we pour out our hearts to God and tell Him our requests and our desires. We do this with thanksgiving. Gratitude unlocks joy. When we are tempted to sit in our anxious thoughts, we can combat this with thankfulness. We can find the amazing blessings around us and praise the Lord. This resets our hearts in times of trouble and helps us to think on the many spiritual gifts rather than on the "what ifs."
The Peace of God
When we have the Holy Spirit, one of the fruits that He gives us is peace. Do you ever wonder how people can have peace in a tragedy or how they can have peace in continual challenges? In these moments, the peace that could only come from God shines through. The peace that comes from God is spiritual. It is not about a temporary fix of a massage or a bubble bath. This is the kind of peace that does not have to leave us. It guards our hearts and our minds in Christ Jesus.
There are good methods to have a peaceful moment, but only Jesus can bring true and lasting peace. We can have peace from God because we now have peace with God through Christ. We have the ability to tap into and receive His peace. When we know that we are not able to do something on our own, we can humbly ask the Lord to bring us His peace. I find it no coincidence that when sharing about the armor of God, Paul shares in Ephesians 6:15 that we are to put on the shoes of peace. The peace of God helps us to take steps forward when we would otherwise be paralyzed by fear. He gives us the strength to walk.
Intersecting Faith and Life:
Are you anxious about anything right now? God tells us not to be anxious, go to Him with your prayer and requests with thanksgiving believing that His peace that is beyond your understanding with guard your heart and mind in Christ Jesus. Through His gift of the Holy Spirit, you can walk in the shoes of peace today, knowing that God cares for you.
Further Reading:
Photo Credit: ©iStock/Getty Images Plus/Ivan Nadaski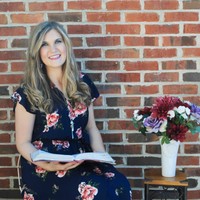 Emma Danzey's mission in life stems from Ephesians 3:20-21, inspiring young women to embrace the extraordinary. One of her greatest joys is to journey with the Lord in His Scriptures. She is wife to Drew for over two years and mom to baby Graham. Drew and Emma serve with Upstate CRU college ministry in South Carolina. Emma is an avid writer for Salem Web Network and provides articles on the Bible, life questions, and on the Christian lifestyle. Her article on Interracial Marriage was the number 1 viewed article on Crosswalk for the year 2021. All the glory to the Lord! She had the joy of hosting Her Many Hats podcast where she explored the many roles that women play while serving One God. Most recently, Emma has released her first Bible Study Book, Wildflower: Blooming Through Singleness.
Emma enjoys singing/songwriting, fitness classes, trying new recipes, home makeover shows, and drinking tea! During her ministry career, Emma recorded two worship EP albums, founded and led Polished Conference Ministries, ran the Refined Magazine, and served in music education for early childhood. Emma also had the privilege of having been a national spokesperson for Mukti Mission based out of India. Mukti has been working to restore shattered lives in India for over 120 years. You can view her articles through her blog at emmadanzey.wordpress.com and check out her Bible Study videos on Instagram @Emmadanzey.
Check out fantastic resources on Faith, Family, and Fun at Crosswalk.com!
Want to grow your prayer life? The So Much More Podcast shows you how to create space to be with God. This podcast, hosted by Jodie Niznik, introduces you to two types of scripture experiences: Lectio Divina and Imaginative Prayer. Join our growing prayer community today!