Sing Praise to God - The Crosswalk Devotional - June 21
Sing Praise to God
By Emma Danzey
Psalm 59:16 says, "But as for me, I shall sing of Your strength; Yes, I shall joyfully sing of Your lovingkindness in the morning, For You have been my stronghold And a refuge in the day of my distress."
As For Me, I Shall Sing of Your Strength
Have you ever noticed how young children will sing and hum without a care in the world? It just comes naturally. When they are happy or working on something, they cannot help but sing. Children are not worried about if their voices sound on pitch or if others are even listening, they are in their own world full of glee. Psalm 59:16 starts out saying, "As for me." Even if the world around us is silent in acknowledging and worshiping the One true God, as for me, I will sing. We can have that child-like faith that leads us to sing and worship our Savior regardless if anyone around us even recognizes that Jesus is Lord. Our attitude of thankfulness and genuine praise will pour out regardless of what others think. We will not people please, we will honor God. We will sing of His strength because He is worthy of our worship and our song.
Yes, I Shall Joyfully Sing of Your Lovingkindness in the Morning
There is something about fresh dew, tweeting birds, and a brand new sunrise that creates a sense of hope for a new day. This Psalm reminds us that we can be joyful in singing about God's lovingkindness in the morning. Lamentations 3:22-23 says, "The steadfast love of the Lord never ceases; his mercies never come to an end; they are new every morning; great is your faithfulness." The forgiveness and mercies of our Savior give us reason to sing. He gives us hope and the encouragement to keep going and live in His grace each day. We can celebrate His great mercy towards us as we wake up each day and see just as the sun rises again, so His forgiveness remains and we can start afresh.
For You Have Been My Stronghold and a Refuge in the Day of My Distress
Lastly, we sing because God has been there for us in our troubles. He has been our safety and our protection when we have been in difficulties. He has never left our side in our darkest moments. Webster's Dictionary says that stronghold means, "A place of security or survival." When we ponder our most challenging days, we remember that we were never isolated in them. Our Stronghold, our Lord was our place of rescue and protection. John 16:33 reminds us that Jesus said, "I have told you these things, so that in me you may have peace. In this world you will have trouble. But take heart! I have overcome the world." He has been our refuge. He has held us in our sorrows and carried us in our weaknesses.
One of the worst things that we can do is forget how the Lord has been faithful with us throughout our lives. Looking back at our trials and how He was there helps us overcome the struggles of today. It is because of His presence in the difficulties that we have reason to sing. If it were not for the cross of Christ, we would not have the victory. If it were not for our sufferings, we would never see breakthroughs. The mountains we face to climb enable us to pour out praise in a meaningful way. He has given us the joy and ability to sing because He has been faithful not only in the good times but in the hard ones.
Intersecting Faith and Life:
How are you singing praises to God today? Have you forgotten to look back on your life and remember how He has worked in amazing ways? Remember that He is faithful and that even on your worst days, He has carried you through. As you wake up each morning reflect on His fresh mercies and joyfully sing Him praises.
Further Reading:
Photo credit: ©Getty Images/Polina Panna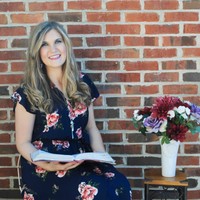 Emma Danzey's mission in life stems from Ephesians 3:20-21, inspiring young women to embrace the extraordinary. One of her greatest joys is to journey with the Lord in His Scriptures. She is wife to Drew for over two years and mom to baby Graham. Drew and Emma serve with Upstate CRU college ministry in South Carolina. Emma is an avid writer for Salem Web Network and provides articles on the Bible, life questions, and on the Christian lifestyle. Her article on Interracial Marriage was the number 1 viewed article on Crosswalk for the year 2021. All the glory to the Lord! She had the joy of hosting Her Many Hats podcast where she explored the many roles that women play while serving One God. Most recently, Emma has released her first Bible Study Book, Wildflower: Blooming Through Singleness.
Emma enjoys singing/songwriting, fitness classes, trying new recipes, home makeover shows, and drinking tea! During her ministry career, Emma recorded two worship EP albums, founded and led Polished Conference Ministries, ran the Refined Magazine, and served in music education for early childhood. Emma also had the privilege of having been a national spokesperson for Mukti Mission based out of India. Mukti has been working to restore shattered lives in India for over 120 years. You can view her articles through her blog at emmadanzey.wordpress.com and check out her Bible Study videos on Instagram @Emmadanzey.
Check out fantastic resources on Faith, Family, and Fun at Crosswalk.com!
Want to grow your prayer life? The So Much More Podcast shows you how to create space to be with God. This podcast, hosted by Jodie Niznik, introduces you to two types of scripture experiences: Lectio Divina and Imaginative Prayer. Join our growing prayer community today!