from Day by Day with the Persecuted Church

By faith Joseph... (Hebrews 11:22)
Where, O death is your victory? ... thanks be to God! He gives us the victory through our Lord Jesus Christ. (1 Corinthians 15:55, 57)
So Joseph died ... he was placed in a coffin in Egypt. (Genesis 50:26)
Joseph
What a strange ending to a marvelous book. Is God's work ending in a poor mummy? No, it is not. These may be the closing words of Genesis, the book of beginnings, but if you read on you will come to the great Exodus.
Joseph knew that it would come: deliverance from persecution and the entering of the Promised Land. That is why these last words of the book of Genesis are not pessimistic but instead full of hope. Joseph's bones were a constant reminder to the persecuted Jews that the day of their deliverance would come. Joseph did not know how or when; he was only certain it would happen.
We have no unburied bones to encourage our faith in a great future. We have an empty grave! Jesus is risen. The empty grave tells us that resurrection is certain. He is alive. He will be with us in times of trouble ... until He returns.
"For the Lord himself will rise first. After that we who are still alive and are left will be caught up together with them in the clouds to meet the Lord in the air. And so we will be with the Lord forever" (1 Thessalonians 4:16, 17).
What a glorious moment that will be. What a hope. What a future. What a God. The best is yet to come.
Copyright [C] 1995 Open Doors International. Used by permission.
Click here to sign up for a free monthly newsletter from Open Doors about persecuted Christians.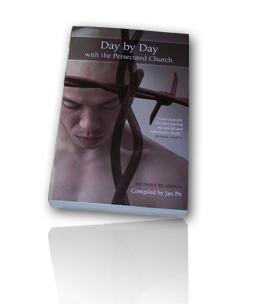 Day by Day with the Persecuted Church
compiled by Jan Pit with a forward by Brother Andrew (paperback, revised 2000)
Compelling wisdom from the pen of actual believers living amidst persecution, you'll be connected to the suffering, courage, and depth of life that exists in the harshest places in the world. Each of these 365 thought-provoking devotions will deepen your understanding of Christian persecution and provoke you to pray for our brothers and sisters with a new found depth.