Overcoming Your Worst Fears [Part 2] - Daily Good News with Alan Wright - May 17

Overcoming Your Worst Fears [Part 2]
Are you ready for some good news?
God doesn't author evil or needless suffering, but He uses both for your good and His glory.
Today's Text: "I want you to know, brothers, that what has happened to me has really served to advance the gospel, so that it has become known throughout the whole imperial guard and to all the rest that my imprisonment is for Christ." (Philippians 1:12–13, ESV)
Paul suffered from riot, persecution, shipwreck, false accusation, multiple incarcerations and was writing to the Philippians while under house arrest in Rome. But the apostle saw the good in it. He was encouraged that the Gospel was being advanced.
There is no blur between good and bad. God is all-good, all the time. But, in this world, you'll have trouble. You can take heart because God is so big and so wonderful that He sovereignly seizes hold of the circumstances wrought be evil and redeems them for His good purposes.
Some years ago, our church was frivolously sued by our neighbors because of their fears that our facility expansion would disrupt the neighborhood. It was painful. Though there was no substance to their case, we nonetheless spent $600,000 defending ourselves. It sapped our church resources and energy during a time of expansion when we most needed our efforts invested in advancing the Gospel. I hated it and rejoiced the day it was all settled.
However, something marvelous happened during that year and half battle. Our congregation drew near to the Lord. The elders grew in courage and spiritual insight. And, most beautifully, the congregation grew into an unprecedented unity that has endured and born expansive, unending spiritual fruit. Our church has grown and flourished and the Gospel has been advanced far more because of the lawsuit than if we'd never faced the adversity.
The Bible doesn't teach that we should deny our adversities (i.e., Roman imprisonment or lawsuits against churches are just dandy). No, we can be honest, direct and accepting of the life's adversities. We can't avoid suffering in this world and we mustn't deny it. But we must put it in its place. Our suffering is still under God's sovereign care. It means that God can use the wrongful imprisonment of Paul, or the wrongful suit against a church, or your current adversity to bring about the advancement of the Gospel. And that's good. And that's the Gospel!
---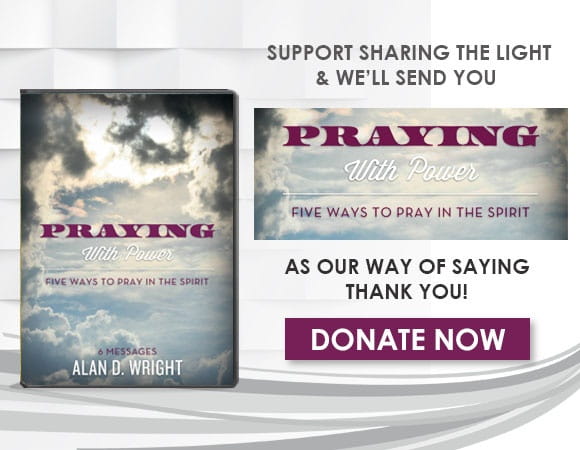 For more information please visit SharingtheLight.org.