God Wants to Give You Freedom
By Rick Warren
"So if the Son sets you free, you will be free indeed" (John 8:36 NIV).
The world defines freedom as a life without any restraint: "I can do anything I want to do and say anything I want to say without anybody telling me what to do." Everybody else may get burned by you, but you get to do it your own way. The world says you can have your freedom, but only by being totally selfish.
Yet, the Bible says the only way to true freedom is through Jesus: "So if the Son sets you free, you will be free indeed" (John 8:36 NIV).
Real freedom is freedom from fear, where you're truly free from guilt, worry, bitterness, and death. You're free to quit pretending because you're free to be yourself.
How do you get rid of those kinds of fears? By letting God love you! The apostle John teaches that "there is no fear in love. But perfect love drives out fear" (1 John 4:18a).
When you realize how much God loves you, you'll begin to live in true freedom. In fact, you worship God when you recognize that "God is love." It is an act of worship to agree that he is a loving, caring, generous God and that we can "rely on the love God has for us" (1 John 4:16a). 
Play today's audio teaching from Pastor Rick >>
Talk It Over
If you struggle to believe God loves you, why do you think you have unbelief in this area of faith?
How has God shown his love to you?
In what ways does realizing God's great love for you help you love others well?
For more Daily Hope with Rick Warren, please visit pastorrick.com!
---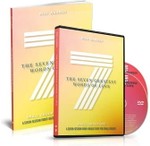 The Seven Greatest Words of Love Study Kit
Experience hope like never before!
Jesus' final words on the cross were some of the most important ever uttered in human history. He spoke of forgiveness, blessings, assurance, and love.
We want to help you embrace the significance of these words with Pastor Rick Warren's new study kit, 7 Greatest Words of Love.

This devotional © 2017 by Rick Warren. All rights reserved. Used by permission.
You can also listen to Rick Warren on OnePlace.com.