You're Alive Because God Wants to Love You - Daily Hope with Rick Warren - March 22, 2017
You're Alive Because God Wants to Love You
By Rick Warren
"Even before he made the world, God loved us and chose us in Christ to be holy and without fault in his eyes. God decided in advance to adopt us into his own family by bringing us to himself through Jesus Christ. This is what he wanted to do, and it gave him great pleasure" (Ephesians 1:4-5 NLT, second edition).
A while back, a man came into my office and said, "I'm a Christian, but I don't feel like I'm going anywhere in my spiritual growth. I'm kind of stuck in neutral."
I said, "What do you think the problem is?"
He said, "I think my problem is I just don't love God enough."
I said, "That's not your problem. Your problem is not that you don't love God enough. Your problem is that you don't understand how much he loves you."
Love is always a response to love. The Bible says, "We love because he first loved us" (1 John 4:19 NIV). When you say, "I don't love God," it's because you don't understand just how much he really loves you.
To understand your life's purpose and calling, you have to begin with God's nature. God is love. Love is the essence of his nature. The only reason there is love in the universe is because of God. Ants and snails do not love, but you were made in God's image, so you can love.
The reason you are alive is because God wanted to love you. The first purpose of your life is to be loved by God! Yes, it is important to serve, obey, and trust him, but your first purpose is to love him.
Let this sink in: Your first duty is not to do anything but just be loved by God.
Play today's audio teaching from Pastor Rick >>
Talk It Over
What is your response to the truth that your first calling is to enjoy a relationship with God?
Think about your current relationship with God. Has it become more about rules, regulations, and rituals than about love?
How does enjoying God's love affect your obedience and service to him?
For more Daily Hope with Rick Warren, please visit pastorrick.com!
---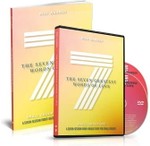 The Seven Greatest Words of Love Study Kit
Experience hope like never before!
Jesus' final words on the cross were some of the most important ever uttered in human history. He spoke of forgiveness, blessings, assurance, and love.
We want to help you embrace the significance of these words with Pastor Rick Warren's new study kit, 7 Greatest Words of Love.

This devotional © 2017 by Rick Warren. All rights reserved. Used by permission.
You can also listen to Rick Warren on OnePlace.com.