The Bible Says Love Is a Choice
By Rick Warren
"That you may love the Lord your God, listen to his voice, and hold fast to him. For the Lord is your life, and he will give you many years in the land he swore to give to your fathers, Abraham, Isaac and Jacob" (Deuteronomy 30:20 NIV).

Today we've bought into this myth that love is uncontrollable, that it's something that just happens to us. In fact, even the language we use implies the uncontrollability of love. We say, "I fell in love," as if love is some kind of a ditch. It's like I'm walking along one day and — bam! — I fell in love. I couldn't help myself. 
But I have to tell you the truth: That's not love. Love doesn't just happen to you. Love is a choice, and it represents a commitment. 
You must choose to love God. He won't force you to love him (Deuteronomy 30:20). You can thumb your nose at God and go a totally different way. You can destroy your life if you choose to do that. God still won't force you to love him because he knows love can't be forced.
This same principle is true about your relationships: You can choose to love others, but God won't force you to love anyone.
Even when you do choose to love someone, it doesn't mean everything will become perfect. It doesn't even mean that person will accept your love. But you are the only person who can stop you from loving someone else — because love is a choice you make.
Play today's audio teaching from Pastor Rick >>
Talk It Over
Is there someone you are having trouble loving right now — someone in your family, a friend, or a neighbor? Who is it?
Ask God to help you love that person, if you make the choice to do so.
Why do you think God gives us a choice about such big things like whether or not we love others?
For more Daily Hope with Rick Warren, please visit pastorrick.com!
---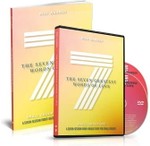 The Seven Greatest Words of Love Study Kit
Experience hope like never before!
Jesus' final words on the cross were some of the most important ever uttered in human history. He spoke of forgiveness, blessings, assurance, and love.
We want to help you embrace the significance of these words with Pastor Rick Warren's new study kit, 7 Greatest Words of Love.

This devotional © 2017 by Rick Warren. All rights reserved. Used by permission.
You can also listen to Rick Warren on OnePlace.com.