What Does a Sabbath Look Like?
By Rick Warren
"You have six days in which to do your work, but the seventh day is a day of rest dedicated to me" (Exodus 20:9 GNT).
The Bible is filled with instructions about living the kind of healthy life God made us to live.
Exodus 20:9 says, "You have six days in which to do your work, but the seventh day is a day of rest dedicated to me" (GNT).Rest is so important to God that he put it in the Ten Commandments. He wants you to take a day off every week. That's called the Sabbath, which literally means a day of rest, and God wants us to do it every seventh day. (The day isn't important. It doesn't have to be a certain day, just every seventh day.) It's so important that even God rested on the seventh day when he created everything — not because he was tired but to give us an example of how we should rest.
What do you do on this Sabbath day to actually have it be a day of rest?
1. Rest your body.
God has made us so that we need rest. If your car engine heat light were showing red, you would stop because you would know it's going to damage the engine. God says if you don't take one day out of seven to rest, if you keep pumping the adrenaline all day, every day, seven days a week, your engine is going to explode somehow. So your best requires rest. You have to take the time to rest.
2. Recharge your emotions.
Just be quiet! Or maybe you need to reconnect in your relationships. Maybe there's some kind of recreation that rejuvenates you. I'm not talking about competitive recreation. Some of you aren't recharging your emotions out on the golf course. You're just getting angry at the other guy!
3. Refocus your spirit.
During your Sabbath, you don't take a day off from God. You worship! Worship puts life into perspective. If you're too busy for God, you're just too busy. To make this happen, you have to schedule it. Psalm 127:2 says, "It's useless to rise early and go to bed late, and work your worried fingers to the bone. Don't you know he enjoys giving rest to those he loves?" (MSG)
God enjoys giving rest to those he loves. Be intentional about taking your Sabbath, and make it count!
Playtoday's audio teaching from Pastor Rick >>
Talk It Over
If you could do anything to rejuvenate your spirit, what would it be?
What day makes the most sense for you to take as a Sabbath? Why?
How can you help your family and friends understand what a Sabbath is and why you are being intentional about keeping it?
For more Daily Hope with Rick Warren, please visit pastorrick.com!
---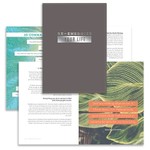 Re-Energize Your Life - A Life Change Book
It doesn't matter how much you work out or how healthy you may eat, if you're not feeding and exercising your spirit… you're going to feel run down and tired – you'll run out of gas. You've got to do more than just take care of your body. You've got to energize your spirit! And the best way to do that is with God's Word! That's why we've put together this new interactive guide called Re-Energize Your Life!
In this first-of-its-kind guide, created from Pastor Rick's most practical teaching, you will learn everything you need to know to re-energize your life the way God intended.  Step by step, you will begin a journey of restoration and renewal. It's a hands-on guide you take at your own pace. No need to rush! In fact, we encourage you to stop and linger where you want to spend more time. You'll benefit from biblical wisdom and learn how to apply it to your life in practical ways.

This high quality "vegan-leather" bound, four-color interactive guide is a user-friendly, practical powerhouse! It's eye-pleasing pages are packed with full-color devotionals, verses, and bible teachings that will dramatically impact your spiritual life forever.
We'll send you the "Re-Energize Your Life - A Life Change Book"  when you give a gift to support Daily Hope. 
This is a limited time offer; request your copy today. Your generous support enables us to share the hope of Christ with people all around the world.

This devotional © 2016 by Rick Warren. All rights reserved. Used by permission.
You can also listen to Rick Warren on OnePlace.com.