Exercise Faith By Setting Goals
By Rick Warren
"An intelligent person aims at wise action, but a fool starts off in many directions" (Proverbs 17:24 GNT).
Most of what we do on a daily basis won't matter in five minutes, much less five years. We do a lot that really doesn't matter.
To achieve your dreams in life, you'll need to decide what really matters and what will last in your life and focus on that. The Bible says, "An intelligent person aims at wise action, but a fool starts off in many directions" (Proverbs 17:24 GNT).
Once you've figured out what matters most, set goals big enough to require faith. Jesus
tells us in Matthew 9 that he will bless us as much as we want. His blessing depends on the size of our faith. Jesus says, "According to your faith let it be done to you"(Matthew 9:29b NIV).
God says choose your cup, and he'll fill it. Whether you have a little teacup, a five-gallon jug, or a 100-gallon barrel of faith, God will fill it up according to your faith. How much you trust God determines how much God blesses you.
You exercise faith by setting goals. You set a goal when you say, "God, I believe you're telling me that you want me to accomplish this by a particular date. It's really going to stretch me to do it, but I believe this is what I need to do."
What is a goal set in F.A.I.T.H.? It's:
Focused: It's specific, something you can measure.
Attainable: It's possible and practical. If you set an unrealistic goal, you won't accomplish it.
Individual: It's personal. You can't set goals for other people. You have ownership over your own goals, not someone else's.
Trackable: Your goal needs a deadline on it. Without a date on it, it's not a goal.
Heartfelt: Never set a goal you're not passionate about, because you will never accomplish it without the desire to do so.
Goals will give life to the dreams you've given up for dead. Take a look at the dreams you've given up on. Add a goal, and see what God can do.
Talk It Over
Why do you think goals help us achieve our dreams?
What makes it tough to set goals related to our dreams?
What are some goals you can set for unrealized dreams in your life? Memorize your goal by writing it down, and consider sharing it with others.
For more Daily Hope with Rick Warren, please visit rickwarren.org
---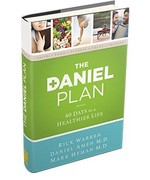 During an afternoon of baptizing over 800 people, Pastor Rick Warren realized it was time for change. He told his congregation he needed to lose weight and asked if anyone wanted to join him. He thought maybe 200 people would sign up, instead he witnessed a movement unfold as 15,000 people lost over 260,000 pounds in the first year. With assistance from medical and fitness experts, Pastor Rick and thousands of people began a journey to transform their lives.
The Daniel Plan is an innovative approach to achieving a healthy lifestyle where people get better together by optimizing their health in the key areas of faith, food, fitness, focus and friends.

This devotional © 2016 by Rick Warren. All rights reserved. Used by permission.
You can also listen to Rick Warren on OnePlace.com.