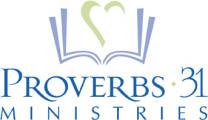 March 15, 2004
Encouragement for Today
The Gift of Grace
Glynnis Whitwer, Senior Editor P31 Woman, Speaker for Proverbs 31 Ministries

Key Verse:
Therefore let us draw near with confidence to the throne of grace, so that we may receive mercy and find grace to help in time of need.  Hebrews 4:16

Devotion:
There are many things that secular organizations can do just as well as the church. They can build homes, feed the hungry and clothe the poor. But there's one area the church should excel in, and that's extending grace. 
Grace is a foreign concept to the world. We learn early that we are graded and judged on our performance. There is no free lunch. We must earn our own way. And it's every woman for herself.
But along came Jesus and He introduced the world to a different way - God's way. Jesus began many of His parables with these words, "The Kingdom of heaven is like ..." Then, Jesus proceeded to tell a story that turned the economics of the world upside down. After all, what shepherd would leave 99 sheep alone to search for one?  How can a few coins given by a widow be of more value than the donation of a rich man?  And what about the father who willingly welcomed a once-rebellious boy home with a party?
God's grace to His children is completely unmerited love and forgiveness. It is an extravagant love that defies our human understanding.  
While our soul longs for grace, we are confounded that it could actually be extended to us. But even more difficult to comprehend, is that it is also extended to those who offend us.  
Grace is a gift, and cannot be earned. In his book, "What's So Amazing About Grace," Philip Yancy said, "None of us gets paid according to merit, for none of us comes close to satisfying God's requirements for a perfect life." 
This truth can transform our relationships. You see, if God offers grace to us, then we should offer grace to others. As we represent Jesus to a broken world, we can best reflect His character by extending grace - unmerited love and forgiveness. 
The hardest place to extend grace is often in our own homes, beginning with our spouse and children. But it's the best place to start living out the higher calling of Christ.  

My prayer for today:
Heavenly Father, thank you for your extravagant love toward me. Thank you for your great sacrifice so that I can approach your throne of grace and receive mercy. Forgive the times I have not shown grace to another. Help me be more like You. In Jesus' name, Amen.

Application steps:
Consider how God has given grace to you. Identify those ways.
Reflection points:
What comes to mind when you hear the word "grace"? 
Can you think of a time when you either performed an extravagant act or were the recipient of one? Share how you felt and what was the response.
There are many areas where we are not given grace, including:  secular culture, graceless religion and parents who fail to offer loving acceptance. Have any of these been a factor in your life?
Can you think of something good in your life you received but did not deserve?

Have you neglected to show grace to someone in your life? What should you do about that?
Power Verses:
Hebrews 2:9  But we see Jesus, who was made a little lower than the angels, now crowned with glory and honor because He suffered death, so that by the grace of God he might taste death for everyone. (NIV)
Colossians 4:6 Let your speech always be with grace, as though seasoned with salt, so that you will know how you should respond to each person.  (NASB)

John 1:14 The Word became flesh and made His dwelling among us. We have seen His glory, the glory of the One and Only, who came from the Father, full of grace and truth.  (NIV)

II Thessalonians 2:16  Now may our Lord Jesus Christ Himself and God our Father, who has loved us and given us eternal comfort and good hope by grace, comfort and strengthen your hearts in every good work and word. (NASB)

Hebrews 12:15 See to it that no one misses the grace of God and that no bitter root grows up to cause trouble and defile many. (NIV)

Additional Resources:
Radically Obedient, Radically Blessed by Lysa TerKeurst
http://www.gospelcom.net/p31/resources/radical.html
P31 Woman Magazine by Proverbs 31 Ministries
http://www.gospelcom.net/p31/resources/newsletter.html
The Ultimate Makeoever, by Sharon Jaynes
http://www.gospelcom.net/p31/resources/makeover.html