August 10, 2021
You Can Do Hard Things, With a Little Help
TRACIE BRAYLOCK
Lee en español
"Therefore encourage one another and build each other up, just as in fact you are doing." 1 Thessalonians‬ ‭5:11‬ ‭(NIV‬‬‬‬)‬‬‬‬‬‬‬‬‬‬‬‬‬‬
We would spend our weekends together driving all over town, visiting family and friends.
As a child, I was quite comfortable journeying along with my grandmother, happily observing the interactions and conversations taking place while I remained pretty quiet in the background.
One day, in the midst of our travels, we stopped at a store. When we walked through the door, I immediately saw one of my classmates. And after the classmate and I spent several minutes staring at each other from across the store, my grandmother asked me if we knew each other.
I said, "Yes, ma'am," and she quickly asked me if we had spoken to one another yet. This time, I told her no. And before I knew it, she had my hand and we were walking across the store toward my classmate.
I couldn't believe it. I didn't like this feeling, the awkwardness of not knowing what to say or how to say it. My classmate hadn't spoken to me either, so maybe it was best that we just stayed on opposite sides of the store, I thought to myself.
But there we were, face to face, now staring at each other in close proximity.
My grandmother recognized that the distance didn't change our hesitation to engage with one another, so she began to guide the conversation. Nothing too difficult. Simple greetings and a casual discussion.
When I walked away from my classmate, I felt a bit disoriented. Yet I also felt that, with a bit of help, I had accomplished something that seemed like such a big deal to me at the time.
Over time, I've grown to truly appreciate what took place that day. Had my grandmother not taken the time to support us through the interaction, we may have carried on in our comfort zones, continuing to miss out on opportunities big and small.
It's often easy to recognize what we want, need and have God-given access to. Unfortunately, it's also easy to remain right where we are, staring at something, unwilling to move our feet. Consider for yourself how many times you've decided not to take action because even the thought of doing so felt overwhelming.
If we dig deep enough, we'll also recognize the times when we've continuously prayed that God would do something or bring something into our lives, and when it became available or within close proximity, we didn't budge.
These are the times when we need someone to come alongside of us, reminding us that we can survive what makes us terrified, we can have meaningful conversations and interactions even when we feel uncomfortable, and we can move toward what God has made available to us, even if we do so reluctantly.
First Thessalonians 5:11 says, "Therefore encourage one another and build each other up, just as in fact you are doing." Isn't it such a relief to know God created us to journey together, surrounding us with people who can guide, encourage and build us up?
Yes, that past failure, those hurt feelings that arose from that relationship or that perception of being alone and unsupported, may have you feeling a bit disoriented. You may want to stay in your comfort zone. But that doesn't have to be the end of the story. You can do hard things. You may just need a little help.
So, no matter what you're hesitant to do, know that God is right there with you, and He's placed others in your life to help you grow and reach your goals.
God didn't intend for you to only observe life unfold before you, my friend. You get to participate, speak up, stand out and share meaningful experiences with those you're blessed to know on this journey.
Dear God, forgive me for the opportunities that I've allowed to pass me by because I was content in my comfort zone. Thank You for those You've placed in my life to journey beside me and for the moments when they nudged me toward the potential I was willing to pass by. Help me not to waste one more moment of this precious life in hesitancy. In Jesus' Name, Amen.
OUR FAVORITE THINGS
Unloved. Unwanted. Too far gone. Forgotten. Do you ever think these things about yourself? At times, our past haunts us and we feel tied to who we once were. But thankfully, if we are in Jesus we are given a new identity. That's why we created our brand-new "In Christ, I Am" Tumbler to remind you that you are not defined by your past. Whether you are trying to keep your coffee warm in the morning or keep your water cold in the summer heat, we pray this tumbler helps you remember your true identity in Christ. Click here to order yours.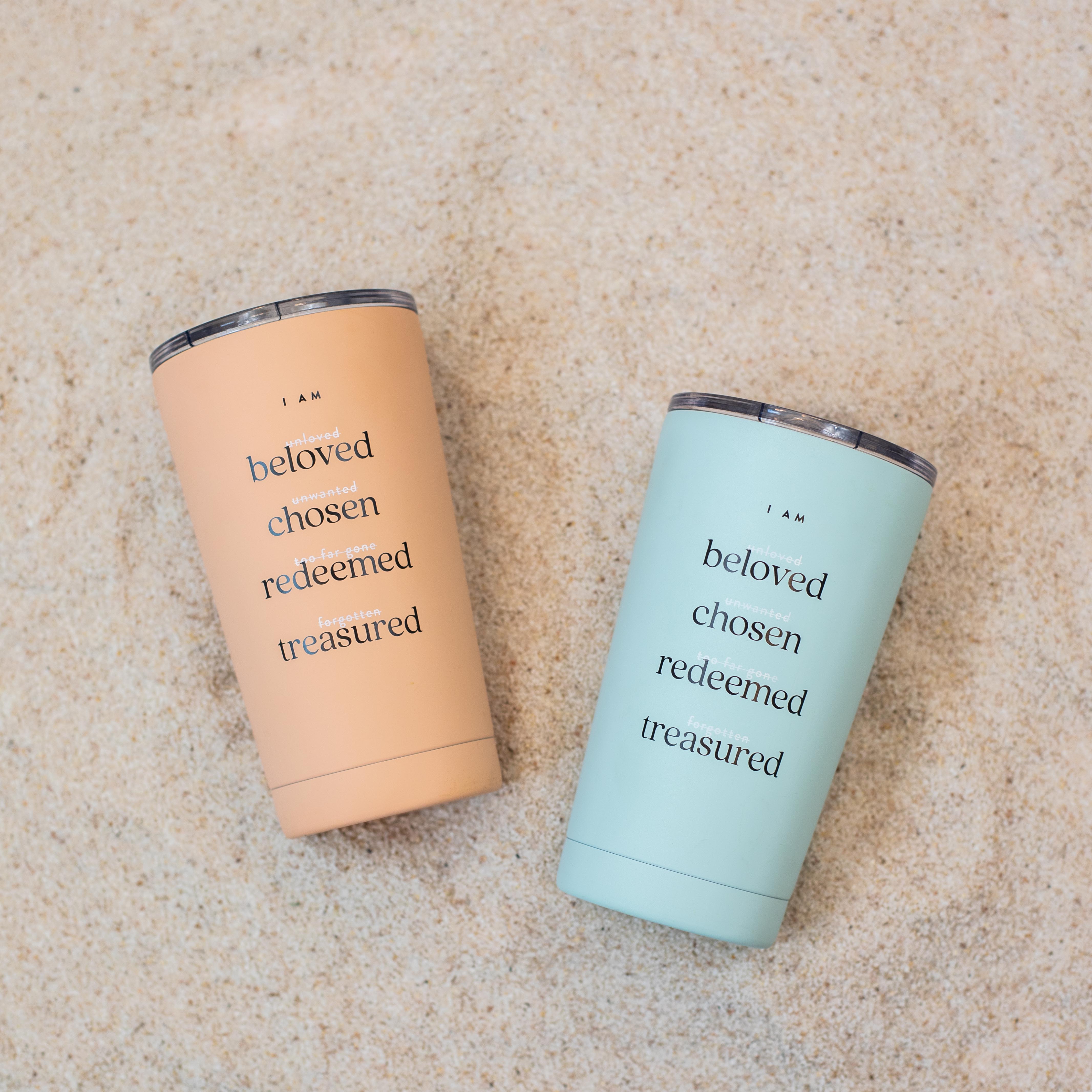 ENGAGE
Want to connect with today's devotion author, Tracie Braylock? Give her a follow on Instagram, and be encouraged by her inspiring posts!
FOR DEEPER STUDY
Proverbs 27:17, "As iron sharpens iron, so one person sharpens another." (NIV)
Ecclesiastes 4:9-10, "Two are better than one, because they have a good return for their labor: If either of them falls down, one can help the other up. But pity anyone who falls and has no one to help them up." (NIV)
Who has encouraged you along your journey, and what did you learn because of it? How can you show up and support someone who needs some guidance today?
We'd love to hear from you! Share your thoughts in the comments.
© 2021 by Tracie Braylock. All rights reserved.
Proverbs 31 Ministries
P.O. Box 3189
Matthews, NC 28106
www.Proverbs31.org