If You're Longing For Home This Christmas ... - Encouragement for Today - December 22, 2014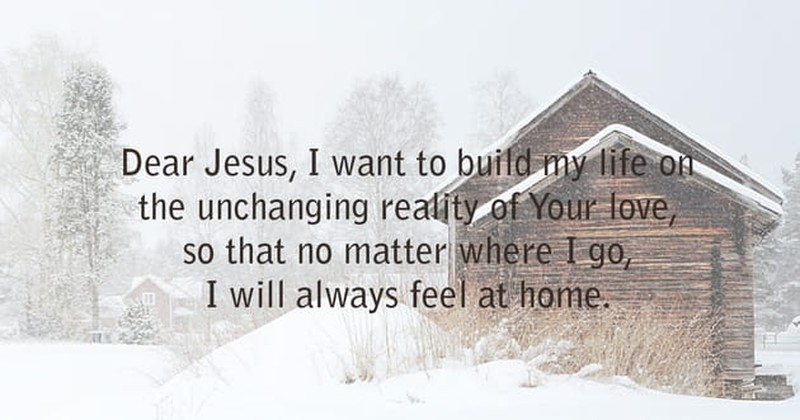 "Jesus replied, 'Anyone who loves me will obey my teaching. My Father will love them, and we will come to them and make our home with them.'" John 14:23 (NIV)
In January, my son cried every night when the moon rose high.
Moving boxes replaced our Christmas boxes as we started the new year in a new house, in a new town, in a new state 450 miles away from the only place Joshua had ever called home.
When the Legos were abandoned and the pingpong paddles laid to rest, when the clamor of the day grew mute and the quiet of the night grew noisy, my littlest boy would lie in his top bunk and remember where he was.
Or where he wasn't.
The shadows danced differently on those new bedroom walls, and the wind rattled the windows in a curious cadence. The owl in the big evergreen sang to the stars with an eerie screech, and the streetlamp cast a golden beam on the closet door.
I wanna go home, my son would cry as salty tears dampened his pillow. I wanna go home.
Sometimes the words seeped angry. Other times, the syllables dribbled like a dirge echoing lonely in the darkness. But every time, I'd lie next to my snuffling son with my heart aching and my head quaking. And I would pray until he surrendered to sleep.
Crammed between the cold wall and Joshua's little frame, I prayed for new friends and for fresh courage. For comfort and for peace. But most of all, I begged God to make our new place home.
I prayed that line all through the long hours of that first homesick month until one morning I realized that my prayer had already been answered.
I was lingering in the 14th chapter of the gospel of John when the 23rd verse made my heart leap.
"Anyone who loves me will obey my teaching. My Father will love them, and we will come to them and make our home with them."
I shifted my gaze from the Bible on my lap to the moving boxes piled high in the corner, and I soaked in the comfort of my Savior's words.
We may have left a house behind when we followed the moving truck east, but we hadn't relinquished our home.
You see, home isn't a place, it's a Person.
Home isn't a refuge from the storm. It's a Perfect Love that storms our hearts.
Home isn't the light at the end of the road. It's an unquenchable Hope that lights our way.
And right before Jesus went to Heaven to prepare a forever place for you and me, He reminded us of that simple truth.
We don't find home by following a yellow brick road. Home finds us when we follow Christ's commands and choose to live as His beloved.
Our zip code may change and the familiar may fade, but when we build our lives on the cornerstone of Christ, we are never far from home.
Because home isn't summed up in an address.
It's captured in a name. Immanuel.
Matthew 1:23 says, "'The virgin will conceive and give birth to a son, and they will call him Immanuel' (which means 'God with us')" (NIV).
Dear Jesus, I want to build my life on the unchanging reality of Your love, so that no matter where I go, I will always feel at home. Thanks that You are always with me. Teach me how to live in You. In Jesus' Name, Amen.
TRUTH FOR TODAY:
John 1:14, "The Word became flesh and made his dwelling among us. We have seen his glory, the glory of the one and only Son, who came from the Father, full of grace and truth." (NIV)
Psalm 90:1, "God, it seems you've been our home forever ..." (MSG)
John 15:5, "I am the Vine and you are the branches. Get your life from Me. Then I will live in you and you will give much fruit. You can do nothing without Me." (NLV)
RELATED RESOURCES:
Invite Jesus to make Himself at home in your heart and speak to you through His Word. The NIV Real-Life Devotional Bible for Women can help you listen for His voice each day.
Visit Alicia Bruxvoort's blog today for more encouragement and for a chance to win a beautiful children's book that will help you teach your children about their "true home" in Christ.
REFLECT AND RESPOND:
As you decorate for Christmas, pray about the ways you can "decorate" your heart, Christ's home, in honor of His birth. Ask God to show you if you need to sweep out some cobwebs of unforgiveness, hang a garland of prayer, or re-arrange your priorities to put others first.
Set up a simple manger scene somewhere in your home and let it remind you of the gift of Immanuel — at Christmastime and always.
© 2014 by Alicia Bruxvoort. All rights reserved.
Proverbs 31 Ministries
630 Team Rd., Suite 100
Matthews, NC 28105
www.Proverbs31.org