"Marriage is an adventure, like going to war." —G. K. Chesterton
Whenever I have a struggling couple in my office, I pitch a very simple vision for them. I tell them to picture themselves sitting on the porch of their house in rocking chairs with an iced tea or lemonade. It's Thanksgiving. Their children are there, grandkids are running all over their yard. They glance at each other, "Boy, remember year 13 when we almost called it quits? Glad we didn't. Year 27 was a doozy, too! Oh, thank you, Jesus. 50 years, and I'm so glad we didn't."
Lie 8: Marriage isn't worth the bother.
This lie is really just a sub-lie of one of Satan's other favorite lies that "easy is better than hard."
Honestly, easy is seldom better than hard. The truth is that marriage is one of God's best ideas, and a good marriage is an inexpressible joy. Work? Yes. Pain? Yes. Blood, sweat, and tears? Yes, all of that too... but it's worth it.
"From the fruit of their lips people are filled with good things, and the work of their hands brings them reward." —Proverbs 12:14
"He who finds a wife finds what is good and receives favor from the Lord." —Proverbs 18:22
"There are three things that are too amazing for me, four that I do not understand: the way of an eagle in the sky, the way of a snake on a rock, the way of a ship on the high seas, and the way of a man with a young woman." —Proverbs 30:18-19
"A wife of noble character who can find? She is worth far more than rubies." —Proverbs 31:10
I'm asking you to make a new marriage with the spouse you promised to stay with. Reaffirm your commitment to follow through on it, and agree to engage fully to restore and build the marriage that God has for you. As He works in you, consciously look at how you're changing into God's image with your spouse. It's a process and it will never be perfect (don't expect that), but know that you're in God's will, and that your marriage is worth every bit.
God, renew my mind according to Your Truth. Take my worn-out heart and strengthen it. I can't fix this on my own, so I ask You to be at work in my married life. Use it all, good and bad, to conform me to Your Son and give me the conviction that it is worth it. Amen!
Listen to Pete, Jill & Stuart Briscoe on the Telling the Truth broadcast at OnePlace.com
SPECIAL OFFER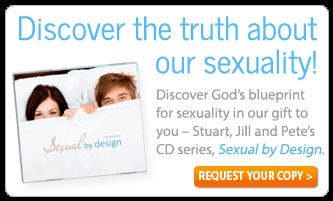 Stuart, Jill, and Pete's Sexual by Design CD Series
Discover the truth about our sexuality. Stuart, Jill, and Pete's Sexual by Design series tackles head-on some of the most pressing sexual issues our culture faces today and helps you talk more openly about God's design for us as sexual beings. So be sure to request yours today!