Some books claiming to be exhaustive are only exhausting to read.  — A. W. Tozer, Preparing for Jesus' Return
Living in the flesh is exhausting. You try to self-improve every day. You try to keep up with all the things you think a good Christian is supposed to do to please God. You read the Scriptures and make mental lists of rules. You try to be good and serve people. You try to stay out of trouble and in tune with God. You try to avoid the mess of life and stay grounded in the piety of religion.
And you try to do all this with a smile on your face.
Even if you're working overtime trying to do right, overtime in the flesh is still independence from God. Soon, exhaustion and spiritual defeat swallow you. You realize you can't fight this flesh, which is perfect because God didn't ask you to fight your flesh.
Think of the flesh—your flesh—like an octopus. Let's say you have a tentacle of anger. One of lust. One of envy. A tentacle of greed. You try to deal with each tentacle one at a time. So let's say you take anger management classes. And maybe those classes help you control your anger. So you think to yourself, Look what I did. I'm amazing! Never mind that you have seven other tentacles to deal with. Never mind that your anger tentacle has now regenerated as pride.
Listen, if your flesh is an octopus and the tentacles simply regenerate, how are you supposed to kill the flesh?
The only way to kill an octopus is to go for the head.
Paul writes, "So I say, walk by the Spirit, and you will not gratify the desires of the flesh" (Galatians 5:16).
Sin management usually fails because we attempt it in our own finite strength using our own determination. What, instead, are we to do? Walk by the Spirit.
"I say it's time to quit struggling and start surrendering to God's presence within you."
TWEET THIS
You can stop sin management. You can stop fighting the tentacles. I say it's time to quit struggling and start surrendering to God's presence within you. The Spirit desires that which is at war with the flesh, and the Spirit will fight the fight for you.
Jesus, it seems like every area of my life is marbled with flesh. I've been trying to separate the flesh from the Spirit on my own, but flesh always returns. I know I'll never do this perfectly; but Lord, I'm ready to stop the struggle. I choose to surrender. May Your Spirit fill my thoughts, emotions, and will. Amen.
Listen to Pete, Jill & Stuart Briscoe on the Telling the Truth broadcast at OnePlace.com
SPECIAL OFFER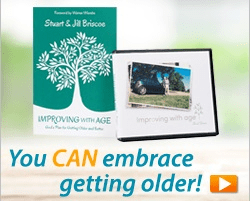 You CAN embrace getting older!
Aging isn't something to be shunned or simply endured. You can be full of joy and purpose in every season of life. Learn how with Stuart and Jill Briscoe's book, Improving with Age, as well as Stuart's companion 6-message DVD series of the same title. These resources are our way to thank you for your gift today.