We must accept finite disappointment, but never lose infinite hope. – Martin Luther King, Jr.
Thousands of people gathered around the river to watch. They came from all backgrounds: the poor, the wealthy, the sick and the healthy, the lost and the found. Their faces were full of hope and their eyes were fixed on the disheveled man who stood waist high in the water.
He was stout and rugged and covered in animal skins. His hair was caked with dirt and his beard was tangled and reached down nearly to his belt. As they squinted in the hot sun, questions began to pour from their lips:
"Is this the one?
Is this the one we have waited for?"
Then, the stranger turned his powerful gaze upon the crowd.
"I baptize you with water. But one more powerful than I will come, the thongs of whose sandals I am not worthy to untie. He will baptize you with His Holy Spirit and with fire."
John the Baptist was giving them the most precious gift in the world – the gift of hope. What God had promised their fathers, he was describing for them… and us. God's promises to Abraham and David are brought full circle in John's message: God's eternal promises are made complete in Christ. Jesus is the One we have been waiting for.
In this earthly life, there are no guarantees. When your boss hands out the pink lay-­off slips and you don't get one, that's a good thing. When the doctor enters and gives you the results of the test you have been waiting for, and the cancer is in remission, that's a great thing. But it's not an everlasting thing. There will be another round of lay-­offs in December and the cancer might return.
That's why Paul encourages us:
" Stand firm … with your feet fitted with the readiness that comes from the gospel of peace."
The eternally great news about Jesus and who we are in Him and who He is in us is not just the good news, its eternally awesome news as God fulfills His ultimate promise to us by putting the Holy Spirit in us.
Lord, today give me the wisdom and the willingness to trade my finite disappointments for Your infinite hope. Amen.
Listen to Pete, Jill & Stuart Briscoe on the Telling the Truth broadcast at OnePlace.com
SPECIAL OFFER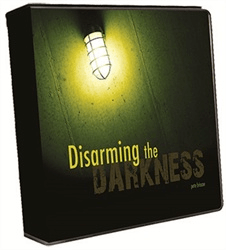 Pete Briscoe's Disarming the Darkness DVD or CD series
Satan loves to use Christians as his punching bag. But if you're a believer, you don't have to fear his attacks and can walk in freedom! Learn more about Satan's defeat and your triumph in Christ in this encouraging 7-message CD or DVD series from Pete Briscoe.