Don't ever discount the cry of your heart. God may be working in your heart to bring about his sovereign plan. – K. Howard Joslin, Honest Wrestling: Questions of Faith When Attacked by Life
I was with my daughter at a retreat, when the speaker instructed us to write an honest prayer. I was in a bad place at this time, struggling in my own failures and flaws. My first thought was, No way. My second thought was, I guess everyone else is doing it. My third thought was, I'd better do it too – you know, as a model for my daughter…
In spite of my resistance, words started to flow. I wrote a raw and honest prayer – stuff from the guts of my heart and the bowels of my soul. I wrote feeling certain that no one else would ever have to read it or know the struggle that lurked beneath my whitewashed pastor image.
Sometimes I reread that prayer and remember what it was like to be honest with myself and with God. But I also read it aloud when I'm speaking at a retreat or even on a Sunday morning, and I always get the same response from the crowd – knowing looks. They get it. They've either been there or are there – stuck in a sense of failure in their relationship with God.
What would a truly honest prayer of yours sound like today?
Now, let me show you the passage that uproots the sense of defeat that likely lurks in your soul:
So in Christ Jesus you are all children of God through faith. (Galatians 3:26)
We feel like failures when we don't understand our sonship, that we are His children. We feel like failures when our efforts to perform spiritually don't produce the results we wanted. What do we want? We want to experience intimacy with God. But guess what? Performance-based intimacy is not intimacy at all – it's legalism. We are no longer living by a pass-fail system, but by a system of faith in Jesus.
"We are no longer living by a pass-fail system, but by a system of faith in Jesus."
TWEET THIS
Because you have faith in Christ Jesus, you are a child of God. Nothing else matters. So pray honest prayers of defeat if that is where you are today. Pray to and struggle with your Father. May intimacy, strength, and confidence be the result.
Lord, Giver of Faith, sometimes my fears keep me from being honest with You. Remind me today of the truth that brings light to the darkest corners of my life – the truth that I am not Your child through great faith, or complete faith, or perfect faith. I am a child of God through faith. Pure, simple, no adjective included – faith. Amen.
Listen to Pete, Jill & Stuart Briscoe on the Telling the Truth broadcast at OnePlace.com
SPECIAL OFFER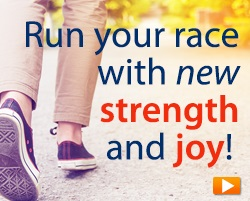 Run your race with new strength and joy!
The journey of faith is filled with rocky roads. When life isn't perfect it's easy to confuse the events of life with the absence of God. We want to send you Jill Briscoe's Faith Enough to Finish book to help you find the strength you need to endure life's tough times. Request your copy as thanks for your gift today!