ARE YOU MISSING A BLESSING?
"Blessed be the God and Father of our Lord Jesus Christ, who has blessed us with every spiritual blessing in the heavenly places in Christ." Ephesians 1:3
Years ago, I heard an interesting story concerning Cambridge University. In the chaplaincy housing, there was a rug in one of the rooms that seemed old, dated, and in need of replacement. Before the decision was made to throw it out, some research was done. It was discovered the rug was made in ancient Persia. It was rare and valuable ... and the occupants in the room had no idea. They ate on it, wiped their feet on it, and treated as common that which was priceless.

I believe we are guilty of the same mistake when we so often skim over Paul's familiar salutations found in each of his thirteen epistles -- "Grace to you and peace from God our Father and the Lord Jesus Christ" (1 Corinthians 1:3). This is an amazing text repeated in every letter Paul wrote. If we will stop for a moment to really take in the salutation, we will reap a rich and wonderful blessing.

GOD EXTENDS HIS GRACE TO YOU

"Grace to you." God extends His amazing grace (unmerited favor and goodness) to undeserving sinners like you and me. The best mortal man who ever lived is not worthy of one shred of God's grace, or one drop of His blood. Yet, God freely lavishes His grace upon all those who call out to Him in repentance and faith.
There is amazing grace that draws us into a personal relationship with Him, and there is amazing grace that calls to us when we fail and fall as believers. By God's grace, the prodigal son was received by the Father, and by God's grace, thrice-denying Peter was restored to fellowship with Jesus. We are saved by His grace, sanctified by His grace, and brought to heaven by His grace.

Regardless of what you have done or how far you may have fallen (the Corinthian church was full of failures), God's grace--His love in action-- is extended to you. As Corrie ten Boom once said, "No pit is so deep, that He is not deeper still." No matter how gross the sin (Peter's was gross indeed), His love and grace can cleanse, forgive, and pull you from the pit!

GOD EXTENDS HIS PEACE TO THOSE WHO RECEIVE HIS GRACE

The order of the salutation is critical. It is grace and then peace, never vice-versa. The reason why is simple. It is impossible to experience God's wonderful peace until you first encounter God's amazing grace. Grace is the power, and peace is the result.

Do you have peace today, a deep and abiding peace within, regardless of your circumstances? So many Christians do not enjoy peace, even though it is theirs for the taking as a blood-bought child of God. Often we pray for things we are not given assurance of in Scripture: physical healing (everyone eventually dies), financial prosperity, restored relationships (see Romans12:18). But wonderful peace is something that is assured to us in Scripture. Jesus said, "Peace I leave with you; My peace I give to you; not as the world gives, do I give to you. Let not your heart be troubled, nor let it be fearful" (John 14:27).

CASH IN ON THE SALUTATION

Listen, if God says something once, it is important. If He says it twice, it is really important; but if He says it thirteen times in thirteen letters, it is equivalent to Him shouting it from the rooftops--"Grace to you and peace from God our Father and the Lord Jesus Christ!" That is not a text to skip over as if it were a meaningless pleasantry. It is not a text to wipe your feet on as if it were some outdated rug at Cambridge. It is a text to take to heaven's bank and cash in on. Receive God's grace today as He extends it to you. When you do, you will experience His peace. How do I know? Because He promised!

Love,
Pastor Jeff Schreve
From His Heart Ministries
P.S. Do you have a testimony of God's grace in your life? I would love to hear about it! Click here to send me an email.
Jeff Schreve founded From His Heart Ministries, www.fromhisheart.org, in 2005 with the vision to reach as many people as possible with the good news of God's love. Jeff believes that no matter how badly you may have messed up in life, God still loves you and has a great plan just for you. He broadcast on radio, TV and in the internet around the world from his pulpit ministry as Pastor of First Baptist in Texarkana, Texas. This ministry is completely listener/viewer supported. It continues only through the faithful and generous gifts of people like you. Pastor Jeff takes no income from this ministry. All gifts go to further the broadcast.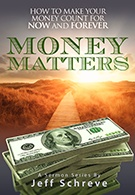 Money Matters: How to Make Your Money Count for Now and Forever
Money. It tends to be a sensitive, personal subject for many people. Yet, Jesus spoke more about money than He did heaven or hell. Why? It is because money tends to be the #1 idol, the false god where we so often place our hope and trust. In this series Pastor Jeff Schreve shares the clear truths of Scripture to help us see money from God's perspective ... and make it count for now and forever.