BUT I DON'T KNOW WHAT TO PRAY!
"Call to Me, and I will answer you, and I will tell you great and mighty things, which you do not know."  Jeremiah 33:3
When I was a freshman in college, I was in a small discipleship group--five University of Texas freshman guys and our discipleship leader, a godly man in his late 40's.  At the end of our weekly meetings, we would always close in prayer, with each of us praying aloud. 
 
I was nervous when it came time for me to pray because I didn't really know what to say.  I was a relatively new Christian, and this thing called prayer--especially public prayer--was not easy for me to do.  I seemed to run out of things to pray for inside of a minute.  If I had to pray last, I was really in trouble.  Everything I knew to pray about had already been voiced.  What was left?  Pray for the Albanians!?  Needless to say, I was struggling with this aspect of the Christian life.               
 
Have you ever struggled with prayer?  Have you ever bowed your head, bowed your knees, and shot all your prayer bullets in a few short minutes?  Have you ever heard about people praying for hours at a time and secretly wondered how in the world they could do that? 
 
How can you go to the next level in prayer? How can you become a person of prayer who really connects with God and sees Him answer your prayers? 
 
TAKE THE PRESSURE OFF
 
In those early days in that discipleship group, I never felt like my prayers were eloquent enough.  I somehow got the erroneous idea that to really pray, I had to sound like William Shakespeare.  It was so freeing to learn that God is not impressed with my eloquence ... or disappointed with my lack of eloquence.  He simply wants to hear me pray humbly and reverently from the heart.  He wants me to share openly and honestly with Him.  He wants me to tell Him what is going on in my life, what I am struggling with, what I am afraid of, and where I need His help.  Psalm 62:8 admonishes, "Trust in Him at all times, O people; Pour out your heart before Him; God is a refuge for us."      
 
Remember, God is not watching the clock when we pray.  He is not saying, "You know, I might have answered that prayer if you had gone another 45 seconds."  Don't get too hung up in the time issue.  Talk to God like you would talk to a best friend.  That is what He is, "a friend who sticks closer than a brother" (Proverbs 18:24).      
 
PRAY THE WORD
 
God loves His Word.  If you want to know the will of God, read His Word.  The will of God is found in the Word of God.  1 John 5:14-15 tells us that we can be confident that God will answer our prayers provided they are according to His will.  So, if you will simply pray Scripture back to God, you can be assured that He will answer that type of praying.    
 
A good place to go for prayers in the Bible is Psalms.  David was known as "a man after God's own heart."  He has lots of honest, humble, heartfelt prayers in the Book of Psalms that you can claim for your own and pray back to God. 
 
BE ENCOURAGED
 
God did not give us the wonderful gift of prayer to put us on a guilt trip because our prayers lack quality and quantity.  God gave us the gift of prayer to connect with Him!   The King of the universe, the God who spoke the worlds into existence longs to hear from little ole you and little ole me.  He wants to hear our voice as we call on His name.  That thought is simply amazing!     
 
The Bible tells us to "pray without ceasing" (1 Thessalonians 5:17).  The way you do that is to call out to God as soon as you wake up in the morning ... and never hang up the phone.  Talk to Him all throughout the day.  Share your every trial and every triumph with Him.  He promises to answer us if we pray.  So let's do just that!
Love,
Pastor Jeff Schreve,
From His Heart Ministries
P.S.  I would love to hear your thought on this.  Direct questions and comments to pastorjeff@fromhisheart.org.  
---
Dr. Jeff Schreve believes that no matter how badly you may have messed up in life, God still loves you and has a wonderful plan just for you. From His Heart provides real truth, love and hope on over 700 radio stations each day, in 149 countries each week on TV, and is always available online.  Pastor Jeff takes no income from this ministry. All donations go to furthering the broadcast outreach. As a listener/viewer supported ministry, we thank you for joining with us to help speak the truth in love to a lost and hurting world. Go to www.fromhisheart.org for more information.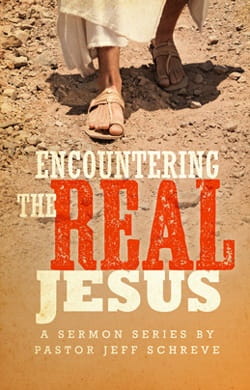 Jesus of Nazareth:  He is the most famous and controversial person of all-time. Sadly, many people don't know who He really is and what He really came to do.  Multitudes create a Jesus in their own image to satisfy their own desires.  Have you encountered the real Jesus?  In this powerful new series, Pastor Jeff Schreve will shine the light on the true identity, character, mission and message of the One called Jesus.