MAKING THE MOST OF THE MOMENT
This is the day which the LORD has made; let us rejoice and be glad in it. Psalm 118:24
A long time ago, I read this sobering statement: wherever you are, be all there. At first glance, that pearl of wisdom may seem ridiculous. Of course you will be wherever you are, right? Wrong! It is very easy to be somewhere physically and somewhere else mentally and emotionally.

As a pastor, I have had many dinners with my family where my mind was consumed with issues and problems related to the church. Although I was home with my wife and girls, I was still at work. I was missing out on quality time with my loved ones because I was wrongly focused on the previous events of the day and the "To Do List" items of tomorrow. Can you relate?

DON'T MISS OUT
In Psalm 118, the psalmist makes an important declaration about rejoicing in this thing called "today." Wise are the ones who understand that yesterday is past and tomorrow may never come. All we have is today. It is a gift from God. That may be why we call it "the present." Live in the present! Make the choice to rejoice in your "today." Wherever you are, be all there!

This Christmas season, don't miss out on Jesus. He is the reason why we celebrate. His coming is truly "good news of a great joy." Because He came to earth nearly 2000 years ago, I can have my sins forgiven, become a beloved child of God, have peace within, and heaven in waiting. Wow. Thank You, Lord! Follow in the footsteps of the wise men and worship King Jesus.

This Christmas season, don't miss out on family and friends. Savor the time you have with the people you love. Be fully present—mentally, emotionally, and spiritually—for every meal, every conversation, every funny story, and every memory-making event. Don't let the regrets of yesterday and the cares of tomorrow rob you of the joys of today.

This Christmas season, don't miss out on the promise of hope. Because Jesus came, died, and rose again, there is hope in the darkest of storms. Regardless of what trials you may be facing, the good news of Jesus trumps every trouble. Romans 15:13 is a verse every Christian needs to memorize, "Now may the God of hope fill you with all joy and peace in believing, that you may abound in hope by the power of the Holy Spirit."

MAJESTY IS COMING!
May God's hand of blessing be upon you as you fill your mind with the truths of Christmas. Remember, the King was born in Bethlehem so you could be born again. The King suffered, bled, and died, so you could go free. And the King is coming again! The first time He came to a humble manger, but the next time He is coming in majesty and glory. The first time He came to a cross, but the next time He is coming to a throne. The first time He came to a crucifixion, but the next time He is coming to a coronation … He is coming to rule and reign forever!

We are eagerly awaiting His glorious return … and I believe it is coming soon! Until then, let's live every day to the full, savoring the sweetness of life and seasoning every sorrow with His amazing grace.

Love,
Pastor Jeff Schreve
From His Heart Ministries
P.S. Merry Christmas! Let us continue to pray for and with you this Christmas season. Click here to leave your request.
Jeff Schreve founded From His Heart Ministries, www.fromhisheart.org, in 2005 with the vision to reach as many people as possible with the good news of God's love. Jeff believes that no matter how badly you may have messed up in life, God still loves you and has a great plan just for you. He broadcast on radio, TV and in the internet around the world from his pulpit ministry as Pastor of First Baptist in Texarkana, Texas. This ministry is completely listener/viewer supported. It continues only through the faithful and generous gifts of people like you. Pastor Jeff takes no income from this ministry. All gifts go to further the broadcast.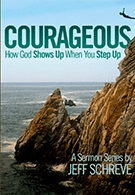 COURAGEOUS: How God Shows Up When You Step Up
Fear is one of Satan's key weapons. If he can keep us fearful, he can keep us faithless. But God has called us to courageously believe His Word, to step up and step out in faith. And when we do, God shows up and works miracles. Join Pastor Jeff Schreve as he encourages us to overcome our fears with faith in this inspiring series called COURAGEOUS: How God Shows Up When You Step Up.