THE SIMPLE SECRET TO A GREAT NEW YEAR
"But seek first His kingdom and His righteousness; and all these
things shall be added to you." Matthew 6:33
I have never been good at being a handyman. Things that are a piece of cake to a handyman are like climbing Mt. Everest to me.

One time Debbie asked me to put in a doggie door. She said, "You can do it, Jeff. The box says, "Simple installation." "Simple is good," I responded as I opened the box with gusto.

The very first instruction was to get out my electric drill. That is when I knew their definition of "simple" and mine were quite different. With "simple" instructions, I would have been told to get out my hammer. Now that is simple! (Note: the doggie door installation was so NOT simple that I had to call my friend Gene over to help me before I completely lost my salvation.)

DO YOU LIKE SIMPLE?

If you like simple, you are going to love my simple secret to a great new year. First, get out your electric drill (just kidding).

The simple secret is this: To experience a great 2016, just do what Jesus said, "Seek first His kingdom and His righteousness; and all these things [the things you and I care about] shall be added to you" (Matthew 6:33). If you will seek Him first, He promises to meet all your needs.

WHAT DOES IT MEAN TO SEEK HIM FIRST?

1. It means that you spend time with Him at the first of each day, praying and reading His Word, asking Him for direction, guidance, help and insight ... confessing your sins when you blow it, and seeking His grace to help in your time of need.

2. It means you put His agenda above your agenda. You pray, "Not my will, but Thine be done" (Luke 22:42). You live your life to please Jesus, not to please yourself.

3. It means you obey Him and do what He says in the power He supplies. You don't let your fleshly desires control you; you let Jesus control you.

4. It means you invest your time, talent and resources in the kingdom of God, not the kingdom of self.

5. It means you recognize that He is everything, and in Christ "are hidden all treasures of wisdom and knowledge" (Colossians 2:3). The true treasures of life—love, joy, peace, fulfillment, true success—are only found in Jesus ... so you spend your time seeking Him.

SIMPLE STARTS NOW!

Don't wait for the ball to drop in Times Square before seeking first the kingdom of God. Start now! Put Jesus first every day you are blessed to live ... and He will bless your life abundantly in return.

One of my favorite Scriptures says, "For those who honor Me, I will honor" (1 Samuel2:30). If you want God to honor you, honor Him in all you do. The best is yet to be ... and the ball is in your court.

Love,
Pastor Jeff Schreve
From His Heart Ministries
P.S. A great way to get started on a daily Bible reading regiment is to use a devotional book. Click here to check out some of my devotional books that offer small sections of Scripture and application to start your 2016 off right.
Jeff Schreve founded From His Heart Ministries, www.fromhisheart.org, in 2005 with the vision to reach as many people as possible with the good news of God's love. Jeff believes that no matter how badly you may have messed up in life, God still loves you and has a great plan just for you. He broadcast on radio, TV and in the internet around the world from his pulpit ministry as Pastor of First Baptist in Texarkana, Texas. This ministry is completely listener/viewer supported. It continues only through the faithful and generous gifts of people like you. Pastor Jeff takes no income from this ministry. All gifts go to further the broadcast.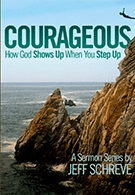 COURAGEOUS: How God Shows Up When You Step Up
Fear is one of Satan's key weapons. If he can keep us fearful, he can keep us faithless. But God has called us to courageously believe His Word, to step up and step out in faith. And when we do, God shows up and works miracles. Join Pastor Jeff Schreve as he encourages us to overcome our fears with faith in this inspiring series called COURAGEOUS: How God Shows Up When You Step Up.