Get a Move On - Girlfriends in God - April 27, 2015
April 27, 2015
Get a Move On
Sharon Jaynes
Today's Truth
I came that they may have and enjoy life, and have it in abundance (to the full, till it overflows) (John 10:10b AMP).
Friend to Friend
What do you do when your walk becomes a crawl? When you feel like you are a disappointment to yourself and to God? When spiritual chronic fatigue leaves you wondering if it's all worth it? When you feel stuck between the Red Sea and the Promised Land—saved from slavery, but never quite making it to the land of milk and honey?
What do you do when you realize that your once passionate faith has morphed into the safe confines of a predictable domesticated belief system, faraway from "Go ye therefore" and "Greater things than these"?
Sometimes the gap between the faith we long for and the faith we experience seems vast beyond bridging. We stand on the east ledge of the great expanse, thinking the west rim is out of reach, or possibly not worth the effort. We think where we are and where we want to be is impossible, implausible, or unrealistic, so we pull up a lawn chair in the land in-between and settle in.
Content, but not really. Longing, but not quite enough. Satisfied, but not at all. We settle for reading about the adventures of others and secretly wonder if they are on the up-and-up. We settle for the occasional postcard from the brave and the few who've made it to the other side while we sip on sweet tea. We make peace with passive because we falsely believe that God would never want to use the likes of us anyway.
If we were honest, I'd venture to say that most believers don't really want to move out of the land of in-between. Given the choice, they wouldn't go back to the Egypt of their life before Christ, at the same time, they don't really want to get their shoes messy and venture into the unknown unabridged faith. They aren't particularly motivated to move beyond weekend visits with God like a kid with shared custody. They're satisfied circling the wilderness; after all, it certainly is better than Egypt. They're satisfied with a bit of manna and a splash of water every now and then. There is heaven to come. Yes, at least there is that. And that is enough.
But I'm not that person. I'm hoping you're not either.
How do we get unstuck from safe confines cul-de-sac Christianity and venture out to the mountain-moving, giant-slaying, lame man-leaping, adventurous faith? How do we stop circling in the wilderness of unbelief and make our way into the Promised Land of peace, purpose, and passionate faith? How do we refuse to be lulled into the ridiculous idea that God is a safe, supple, and simple grandfatherly gentleman who kisses babies, and helps us find the closest parking space at the mall, and matching towels at a clearance sale?
How do we consistently access the power of God's promises and boldly believe the truth? It starts with believing and obeying what you already know.
Is there something God has already told you to do and you haven't done it?
Is there a truth that He has already revealed that you've not truly believed?
If you want to go into your Promised Land, it's time to stop sitting and soaking, and start taking those steps of faith and get moving.
Let's Pray
Dear Lord, I am ready for the great adventure. I'm folding up my lawn chair and am on my feet. I am making a decision to believe what I already know, and act on what I already believe. I'm ready to get moving. Lead the way!
In Jesus' Name,
Amen.
Now It's Your Turn
Today's devotion is from the first page of my new book that I'm working on. I just couldn't wait to share it with you.
What are some ways that you have settled into a safe faith?
Do you think that's what God really wants for you?
Are you ready to be more than just a nice church girl, but a powerful force of God to be reckoned with? If so, click over to my Facebook page and say, "I'm ready for more."
More from the Girlfriends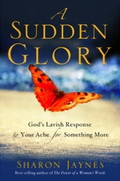 Do you long to feel close to God but sense there's something missing? That you've missed that mysterious formula to make it happen? Do have a glory ache–a persistent longing to experience God's presence and working in your life, but not quite sure how to make it happen? If so, my book, A Sudden Glory: God's Lavish Response to Your Ache for Something More, is just for you. Join me and discover how to erase the lines between the secular and the sacred to experience a deeper, more intimate relationship with God than ever before. While you're there, you can download a free chapter or watch a video book trailer.
Seeking God?
Click here to find out more about
how to have a personal relationship with Jesus Christ.
Girlfriends in God
P.O. Box 1311
Huntersville, NC 28070
info@girlfriendsingod.com
www.girlfriendsingod.com
Click here to learn more about hosting a Girlfriends in God conference in your area or having one of the GiGs speak at your next women's event.