August 15, 2018
It's Time For a Good Cleaning
Gwen Smith
Today's Truth
Since we have these promises, dear friends, let us purify ourselves from everything that contaminates body and spirit, perfecting holiness out of reverence for God. (2 Corinthians 7:1, NIV)
Friend to Friend
I sat in the dentist chair considering the state of my teeth. It was rather interesting, and somewhat frustrating, that even though I brush my teeth two times a day, stains are still a problem.
I hate that.
No one wants dingy teeth. I like my teeth to sparkle and want them to rank "fabulously-white" on the sliding scale of teeth colors. (Are you with me?)
Yeah… my two cups of coffee each morning probably don't help the stain situation, but I do take care of my teeth. I use whitening toothpaste with fluoride, brush in circles, and I floss. Okay – so I don't floss everyday – but I do floss! Yet in spite of my efforts, I still need to visit the dentist every six months for a good cleaning. 
Like build up on our teeth, stains probably build up on our hearts over time too. 
It's a gradual thing. 
Even if we confess our sins daily, I think we can still encounter residual build up of un-holiness.
While it's true that the Lord forgives and forgets our confessed sins completely, we need to be careful. I know I do. Subtle choices like resentment, laziness, gossip, gluttony, selfishness, un-forgiveness, self-indulgence, pride, and uncontrolled anger diminish the shine on our souls and keep us from God's best. 
In light of this, it seems that today is the perfect day for a good cleaning. Not at the dentist, but in our hearts.
God wants you and me to cast aside everything that keeps us from Him.
I love what we see of David's heart when He prayed, "Search me, God, and know my heart; test me and know my anxious thoughts. See if there is any offensive way in me, and lead me in the way everlasting." (Psalm 139: 23-24) Let's do the same as we invite God to examine our hearts today. To do a good cleaning.
Because when we allow the laser treatment of His holy light to convict us of sin and remove any lingering stains the dull the appearances of our faith and purity fade to white. "Those who look to him are radiant; their faces are never covered with shame." (Psalm 34:5)
Let's Pray
Dear Lord,
Please show me the stains on my soul and forgive me for _____________.  Help me to be a better reflection of Your holiness. Guide me in paths of righteousness for Your name's sake. 
In Jesus' Name,
Amen.
Now It's Your Turn
What came to mind as you read this devotion? Is there a stain on your soul that you are aware of, yet have chosen not to deal with? Pause for reflection. What behaviors have you been trying to "clean" up in your own strength?
More from the Girlfriends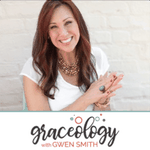 We're pleased to announce the new GRACEOLOGY with Gwen Smith podcast! Hang out with Gwen and friends when you go on walks, exercise, run errands or travel. Podcasts are also perfect to listen to as you do household chores! (Laundry anyone?) Each GRACEOLOGY with Gwen Smith podcast episode is filled with fun, faith-focused, grace-filled conversations that will help you know and trust God more. These discussions are going to encourage you in meaningful ways to live out and lean on the GRACE of Jesus in the midst of cluttered, messy days. CLICK HERE to listen on iTunes, or visit GwenSmith.net/Graceology for more information.
Seeking God?
GirlfriendsInGod.com
Click here to learn more about hosting a Girlfriends in God conference in your area or having one of the GiGs speak at your next women's event.