February 11, 2021
Sometimes Healing Takes Time
Sharon Jaynes
Today's Truth
"Do not conform to the pattern of this world, but be transformed by the renewing of your mind. Then you will be able to test and approve what God's will is—his good, pleasing and perfect will" (Romans 12:2 NIV).
Friend to Friend
I like instant. I like brewed coffee in a minute or less. I like microwaved leftovers in 45 seconds or less. I like instant text, instant on-line shopping, and instant movies at the click of a button.
I'm not a fan of process, but would rather have immediate results. One of my favorite words in the New Testament is "immediately."
Sometimes, God does heal immediately, but not always. Most times, He heals through a progression of healing steps.
Whether we're talking about someone's healing from the results of a bad decision, healing of violent childhood memories, or healing from a broken heart, healing takes time.
Healing begins by recognizing that a broken heart needs mending, a busted life needs repairing, the consequences of a regrettable decision need righting.
It starts with a decision to "get well"—to set the shattered bone of contention, to lance the festering boil of bitterness, to remove the rotting soul ache of resentment, to stop metastatic memories from spreading. Healing peeks through the birth canal of wholeness when we tell someone our story for the first time.
Because healing is a process, it usually happens through a series of steps or decisions. It's not a sprint, but a marathon—one with potholes, bends in the road, and a few straightaways that build momentum. A process implies movement—a progression from one step to the next.
I grew up with a world of wounds from what went on in my home. I couldn't wait to graduate from high school and get out of that house. The problem was, when I left, I took my memories with me. I was a Christian; I loved Jesus; but I was weighed down with anger and resentment for what my parents had done and what they had not done.
My healing came over time in layers of forgiveness, stages of shedding shame, and progressively learning to see myself as God saw me. Just when I thought I was in the clear, God would reveal another closet of my heart that needed cleaning out.
When we have a physical wound, the need for attention is obvious. We sew up the cut, bind the break, bandage the burn. Then we douse the injury with medicine and wait for it to heal. Once a scar has formed or the bone has set, we know the body has repaired itself. The area may still be tender for a while, and it might take some time before we stop being mindful of it, but the wound is closed, and a healthy scar remains.
But when we are wounded emotionally, it's not quite that straightforward. We can't see the wound, so it often goes unattended, festering and spreading infection into our thoughts and relationships. Time does not heal all wounds, especially wounds of the heart. They may lie dormant for a season, but triggers poke them with the hot iron of remembrance that lets us know they're still there.
Forgiveness begins with a decision, but there is also a process that follows. The mind and the emotions don't always move in tandem. Emotions tend to lag behind. Even when we make a sincere decision to forgive, it might take a while for our emotions to catch up.
Paul wrote, "Do not conform to the pattern of this world, but be transformed by the renewing of your mind. Then you will be able to test and approve what God's will is—his good, pleasing and perfect will" (Romans 12:2 NIV). Did you catch that "renewing" is a present tense continuous action verb? It's not instant. It is a process
Let's Pray
Oh God, I really want to let go of this pain from the past. When triggers bring it up again, help me to remind myself that I have already let it go and placed it at Your feet.

In Jesus' Name, Amen.

Now It's Your Turn
What is a trigger that makes you remember the hurt all over again? Name it.
Once you name it, you can expect it. Once you expect it, you can reject it.
Did this devotion speak to you? If so, leave a comment and tell me why.
More from the Girlfriends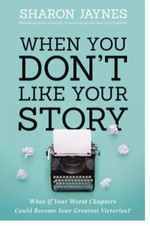 Are you ready to turn your pain into purpose? Are you ready to transform your worst chapters into your greatest victories? If so, check out my new book, When You Don't Like Your Story: What If Your Worst Chapters Could Become Your Greatest Victories and begin the journey today. The good news is you don't have to do it alone. Join my FREE on-line Bible study on Facebook running from February 16-March 9, 2021 and let's do it together.
© 2021 by Sharon Jaynes. All rights reserved.