February 24, 2020
The Connection Between Confession and Courage
Gwen Smith
Today's Truth
My soul finds rest in God alone. My salvation comes from Him. He alone is my rock and my salvation. He is my fortress and I will never be shaken. (Psalm 62:1-2)
Friend to Friend
In Psalm 62 the phrase "I will never be shaken" appears twice and pops up like 3D on a flat surface. Who says this type of thing? What's behind such a statement of confidence?
David wrote Psalm 62 when he was on the run. Literally.
His own son, Absalom, was trying to kill him in order to take his throne. Nice. Talk about a prodigal child! Ugh.
Absalom's rebellion was reckless and ruthless. Yet, in the thick of this difficult, dangerous situation, David didn't complicate matters by freaking out – like I often do. Instead, he called out to God simply, with what appears to be a calm courage.
"My soul finds rest in God alone. My salvation comes from Him. He alone is my rock and my salvation. He is my fortress and I will never be shaken."
I mean, who rests when their child is trying to hunt them down and kill them?
It's as if when he remembers who God is to him, he gains confidence, and then throws around declarations. "I will never be shaken."
And a light goes on in my heart… I should respond this way too!
When complicated circumstances and challenges invade my days, I want my first response to be unshakable confidence - because I remember that the God of Angel Armies is on my side.
When you and I do this, when we speak to God as our Fortress, as our rock, as our Deliverer, as our shield, as our Help in times of need, He hears and steps in with divine strength that empowers us.
Our knees need not knock!
They need not knock when we face external threats… or even our own failings.
In Psalm 103, the psalmist assures us when we confess our sins, God chooses not to remember them. Every failure and act of rebellion is exiled to a place unknown. A place that can't be found on a map or globe. A place of dissolve. Of non-existence.
When broken places of our pasts have been laid before God, they are banished from penalty, as far as the east is from the west. This truth holds the power to calm the shakiest sister among us.
"As far as the east is from the west, so far has he removed our transgressions from us." (Psalm 103:12, CSB)
My heart can hardly take it in! As far as the east is from the west. Incredible.
God's matchless mercy demands a radiant response. From me. From you.
So, let's breathe deep the beauty and completion of forgiveness today.
Let's dance in wonder of the secure and sacred Strength that holds the hurting and stills the shaking.
Let's stretch wide our souls with confession, knowing rest comes to all humble hearts that park in the presence of the Prince of Peace.
And as we breathe, dance and soul-stretch, let's whisper thanks to the solid Rock of our salvation.
Let's Pray

Lord, You're so good. Help me to remember Your faithfulness in times when I'm tempted to freak out. Calm me with Spirit-led courage. Help me find rest in You and You alone and show me how to stand strong in the strength of grace today.
In Jesus' Name,

Amen.

Now It's Your Turn
Read Psalm 62.
What observations rise from the text? Reflect on the verses that stand out most to you and consider how they can and should affect your behaving and believing today. Write about it in your journal or tell me about it in a DM on Instagram or on the wall of my blog.
More from the Girlfriends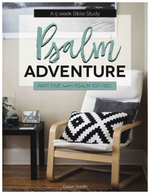 If you want to read the Bible, but don't know where to start, this is for you! Studying the Bible is important to help you know and trust God more. It equips you with His power, presence, perspective and peace. It informs your emotions, increases courage, decreases doubt, and bolsters believing. #majorgamechangers
Don't let thoughts like, "I don't know what to read," "I don't understand what I'm reading," or "I just don't have the time" keep you from going after what you truly know your heart and soul needs.
JOIN Girlfriends in God cofounder Gwen Smith for an inductive online Bible study that can be done in the comfort of your home and in a time-frame that fits with your personal schedule. Her next Psalm Adventure is a 5-week study that begins on March 1, 2020.
Register now for the FREE online study.