November 21, 2019
The Gift of Encouragement
Mary Southerland
Today's Truth
Your love has given me great joy and encouragement, because you, brother, have refreshed the hearts of the saints(Philemon 1:7, NIV).
Friend to Friend
I once read about an African tribe that has what we might consider an unusual approach for dealing with people who make mistakes. When a member of this tribe does something wrong, they take the person to the center of the village where the tribe surrounds him. For two days, they remind him of the good things he has done. The tribe believes that mistakes are often a cry for help and hope to provide that help through the layers of encouragement they freely give.
I wonder how our world would change if we took the same approach to encouragement. It takes layers of love and great patience to replenish, restore, and put courage back into a heart that has been wounded.
Encouragers look for opportunities to work. Every day we cross paths with hurting people. A word of encouragement, an act of kindness, or a caring smile may be enough to keep them on their feet.
We all need the closeness of relationship.
We all need to know we are loved.
We all need encouragement.
"Encourage one another daily" (Hebrews 3:13).
An encourager is one who knows you as you are, understands where you've been, accepts who you've become, and still gently invites you to grow. How often do we need to practice encouragement? Daily. Continually. Constantly.
The key to constant and daily encouragement is to vary our forms of encouragement and the people who receive that encouragement.
Acts 4:36 tells us about a man who came to Christ. His life was changed so dramatically that he sold his land and brought the money to give to God through the early church. That is very impressive. But the most impressive thing about this man called Joseph is that the disciples changed his name. They called him Barnabas, which means "Son of Encouragement."
Are you an encourager? Would your friends suggest changing your name? Would your spouse or your children? What about your neighbors or that person in your life who is struggling to find a ray of light in their darkness?
The message is clear. Just as Christ has come into our lives to encourage us, we are to give that encouragement away. The most amazing truth is that the more encouragement we give, the more we will receive in the circle of encouragement.
Jesus promises, "If you give, you will receive. Your gift will return to you in full measure, pressed down, shaken together to make room for more, and running over. Whatever measure you use in giving—large or small—it will be used to measure what is given back to you" (Luke 6:38, nlt).
Let's be encouragers.
Let's Pray

Father, thank You for the way You are always here for me. Your faithfulness and love overwhelm me. Your Word is a light for every step I take. Your encouragement keeps me on my feet every single day. Lord, I want to give that encouragement away to others. I want to be an encourager to my family, to my friends – to the people You allow to cross my path every day. God, teach me how to be an encourager.

In Jesus' Name,

Amen.

Now It's Your Turn
Read and memorize 1 Thessalonians 5:11, 14. "Therefore encourage one another and build each other up…and we urge you, brothers, warn those who are idle, encourage the timid, help the weak, be patient with everyone."
How do you rate as an encourager? Which of the following areas do you need to work on in order to give encouragement to the people in your life who need it?
___Demonstrate great patience
___Offer sensitive instruction
___Stay close
___Practice encouragement daily
More from the Girlfriends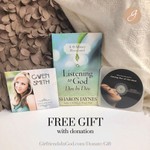 NOVEMER 18-22, 2019 we are offering a FREE GIFT BUNDLE with a donation to Girlfriends in God of $25 or more! Click here to give now.
We face complicated challenges and go through times that stretch, strain and stress us. Having someone come along side of you in those times is priceless. Your inbox waits with a gift each day from us. A gift of encouragement, truth, Biblical depth, friendship and honest hope.
Girlfriends in God is a 501c3 non-profit ministry and your donation has the value to help make an impact in the lives of countless women like yourself. Will you partner with us and make a donation to the ministry of Girlfriends in God? 
Seeking God?
GirlfriendsInGod.com