November 22, 2019
When You Feel Far From God
Sharon Jaynes
Today's Truth
Jesus said: "On that day you will realize that I am in my Father, and you are in me, and I am in you" (John 14:20 NIV).
Friend to Friend
Do you ever feel far away from God, or that He is far away from you? If you're like most people, then I bet the answer is yes. So let's take a look at those "feelings."
You are a triune being with a body, soul and spirit. Within your soul you have a mind, will, and emotions. That's where those "feelings" come from. And if you are like most people, sometimes you feel closer to God than other times. But are you? Really?
Sometimes I feel closer to my husband than other times. But that doesn't mean I'm any less married sometimes more than others. I usually feel closer to him after we've enjoyed a fun time together, been especially intimate, or gone through a struggle where we've locked arms and walked through the struggle together.
It's not that much different in my relationship with God. I might feel closer to Him when we've had a good time together (as in worship service), been especially intimate spiritually (as in a morning quiet time), or gone through a struggle where we've locked arms and walked through the difficulty together (as in mourning the death of a loved one).
But just because I feel closer to God in a particular moment doesn't mean that I am. It is just a feeling. We know that we cannot have that giddy feeling about our spouse all the time. Then why do we think we have to have that with God?
Paul prayed for the Ephesians that the God of our Lord Jesus Christ would give them the Spirit of wisdom and revelation so that they could know him better …that they might know the hope to which he had called them… (Ephesians 1:17-19). He prayed for the Colossians that they would "know the mystery of God, namely, Christ in whom are hidden all the treasures of wisdom and knowledge" (Colossians 2:2-3). He did not pray that they would feel like they were close to God or feel the love of God. He prayed that they would know it. Specifically, Paul prayed:
"I pray that out of his glorious riches he may strengthen you with power through his Spirit in your inner being, so that Christ may dwell in your hearts through faith. (How? Through faith. In your "knowing"). And I pray that you, being rooted and established in love, may have power, together with the saints, to grasp how wide and long and high and deep is the love of Christ, and to know his love that surpasses knowledge—that you may be filled to the measure of all the fullness of God" (Ephesians 3:16-19 emphasis added).
Why do we experience times when we feel far from God? How can we feel far from God if His Holy Spirit lives in us? If you are in Christ and He is in you (John 14:20), why don't you feel Him at all times? Can you feel distant from your liver, from your kidney or from your pancreas? Being near to God, or rather feeling near to God is not a matter of proximity, as if one of us moved closer or further away. It is not a matter of a physical position, but it is a matter of our relational acuity. It is a spiritual receptivity, a spiritual awareness, and a spiritual acknowledgement of His presence.
Charles Spurgeon once said: "It may be that there are saints who are always at their best, and are happy enough never to lose the light of their Father's countenance. I am not sure that there are such persons…and I have not traversed that happy land. Every year of my life has had a winter as well as a summer, and every single day has its night…I confess that though the substance be in us, as in the teil-tree and the oak, yet we do lose our leaves, and the sap within us does not flow with equal vigor at all seasons."
God has promised He will never leave us, but we can feel far from Him when we ignore Him, live independently from Him, grow dissimilar from Him, or rush about expecting Him to tag along rather than move in union with Him.
So here's what I want you to do today, stand on what you know. "On that day," Jesus said, "You will realize that I am in my Father, and you are in me, and I am in you" (John 14:20 NIV). And friend, you can't get much closer than that.
And while your humanness falters between spiritual times of plenty and times of want, communion with God is always just a whisper away as you acknowledge His presence with you and in you.
Let's Pray

Dear LORD, I'll admit, sometimes I feel far from You. But today, I am not going to be a woman who is lead by her feelings. I am going to be a woman who stands on the truth of Your Word. I am in Jesus. He is in me. And we are both in You. Hallelujah.

In Jesus' Name,

Amen.

Now It's Your Turn
When is a time in your life that you felt closest to God?
What was it about that time that brought a that sense of closeness?
When we feel far from God, praise is a sure-fire way to bring us closer. Today, write down 10 reasons you have for thanking God. 
More from the Girlfriends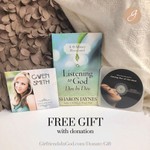 NOVEMER 18-22, 2019 we are offering a FREE GIFT BUNDLE with a donation to Girlfriends in God of $25 or more! Click here to give now.
We face complicated challenges and go through times that stretch, strain and stress us. Having someone come along side of you in those times is priceless. Your inbox waits with a gift each day from us. A gift of encouragement, truth, Biblical depth, friendship and honest hope.
Girlfriends in God is a 501c3 non-profit ministry and your donation has the value to help make an impact in the lives of countless women like yourself. Will you partner with us and make a donation to the ministry of Girlfriends in God? 
Seeking God?
GirlfriendsInGod.com