May 19, 2015
Running to Win
Gwen Smith
Today's Truth
I press on to take hold of that for which Christ Jesus took hold of me.(Philippians 3:12)
Friend To Friend
The year was 2008. The race started out like any other race: runners at the starting line, fans in the stands, excitement and anticipation thick in the air. But this race was a big one. An indoor track and field conference championship for the collegiate women's 600 meter run.
At the sound of the gun, the runners took off – each with a heart longing to win the race – each competing fiercely for the prize. Just three quick laps stood between the four athletes and their destinies. It was clear from the beginning, this race would be tight.
My family and I watched on an internet video as the long and lean runners vied for the lead. In unison, we gasped with horror when, as they began the final lap, one of the competitors caught the slightest edge of another runner's shoe and went crashing down onto the track.
My heart sunk when she fell. I didn't know this fallen woman, but I do know what it feels like to fall and to have your hopes dissolve in a split second. I felt the despair of the crash with her.
The fans in the crowd all stood to their feet and rallied cries of encouragement to this young runner. The seconds that followed will be etched into my heart and mind forever. She could've walked off the track and everyone would've understood.
But she didn't quit.
She got up and kept running.
Now a full quarter-lap behind the other runners, this athlete fixed her eyes on the track before her and ran like the wind. With just half a lap to go, this determined young woman overtook third place. Unbelievable. The crowd swelled with amazement.
Then, just a hundred yards before the finish line, she inched up to the other two runners and – at the tape – leaned forward to win the race!
No. Stinkin'. Way!
The crowd went wild. My family went wild. What a race! What a fall! What a recovery! What a victory!
The next day, as I took my teenaged son to school, he and I had trouble connecting. I was frustrated with him; he was frustrated with me, and what I'd hoped would be a warm send off to a great day became an icy goodbye as he got out of the car. I felt like a loser-mom and lamented to God about it on the drive home.
As I poured out my frustrations in prayer, the Lord reminded me of the race. Like the young runner, I got tripped up on the shoes of another runner and fell down mid-race. Now, I had a choice. I could stew and lick my mama-wounds, allowing my disappointments to keep me from running, or I could call on the grace of the Lord, put one foot in front of another, and get back in the race.
The writer of Hebrews talks about a cloud of witnesses that encourages others in faith, and as I prayed I could almost hear them cheering me on.
"Therefore, since we are surrounded by such a great cloud of witnesses, let us throw off everything that hinders and the sin that so easily entangles, and let us run with perseverance the race marked out for us. Let us fix our eyes on Jesus, the author and perfecter of our faith, who for the joy set before him endured the cross, scorning its shame, and sat down at the right hand of the throne of God" (Hebrews 12:1-2).
Game. On.
I got back up. I chose to run again by asking the Lord for the grace and strength to finish the day strong in Him. By the time my son got home from school we had both cooled down. Grace ran before us. I asked him to forgive me for frustrating him and he did the same.
We all run. We all fall. Each day presents us with fresh opportunities to allow the mercy, strength and grace of God to intervene in our lives. When writing to the church of Philippi about the discipline of perseverance, the apostle Paul said this:
But one thing I do: Forgetting what is behind and straining toward what is ahead, I press on toward the goal to win the prize for which God has called me heavenward in Christ Jesus. All of us who are mature should take such a view of things. (Philippians 3:13b-14)
So whatever you face today, friend, run. Run to win the prize. Run like the wind. And when you fall; don't throw in the towel, don't point fingers, don't stew, and don't quit. Get right back up and run again… in the mercy, strength and grace of God.
Let's Pray
Dear Lord, Thanks for being a God of second chances and eternal grace! Please help me to run in your mercy and strength today.
In Jesus' Name,
Amen.
Now It's Your Turn
Grab your Bible and read the book of Philippians today. It's only four chapters long. You can do it! It will bless your socks off! If you don't have time to read the whole thing right now, then read a chapter a day for the next four days.
JOURNAL: Look up Isaiah 40:28-31 and fill in the following blank spaces:
"Do you not know? Have you not heard? The LORD is the ­­­­______________ ______, the _______________ of the ends of the earth. He will not grow ________ or ___________, and his __________________ no one can fathom. He gives ________________ to the _______________and increases the ____________ of the ____________. Even youths grow _____________ and ____________, and young men _____________ and _____; but those who _________ in the LORD will ___________ their _____________. They will _________ on wings like eagles; they will _______ and not grow weary, they will ___________ and not be ______________."
More from the Girlfriends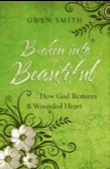 Feel like giving up? Learn how God wants to bring you beyond your past heart-wounds and your present challenges to His wholeness, strength and beauty. Broken into Beautiful is a book filled with stories – real stories … gritty and honest, not cleaned up and phony. It's also filled with Scripture that will inspire you toward the life-changing grace of Jesus. To order the book, go to Amazon or, for a signed copy, visit Gwen's web store.
Gwen Smith is a speaker, author, worship leader, and songwriter who wants to help you think big thoughts about God – and inspire you toward His grace and truth. Her website is filled with videos, posts, songs and resources that will be a deep well of encouragement to you. Click here to visit her site. (Get 3 FREE song downloads when you sign up for her blog!)
Seeking God?
Click here to find out more about
how to have a personal relationship with Jesus Christ.
Girlfriends in God
P.O. Box 1311
Huntersville, NC 28070
info@girlfriendsingod.com
www.girlfriendsingod.com
Click here to learn more about hosting a Girlfriends in God conference in your area or having one of the GiGs speak at your next women's event.