Friday, August 21, 2020
A Supernatural Certainty
"Yes, we are fully confident, and we would rather be away from these earthly bodies, for then we will be at home with the Lord" (2 Corinthians 5:8 nlt).
When I was growing up, Disneyland was like Heaven on earth to me. I regularly watched Walt Disney's TV shows like Walt Disney's Wonderful World of Color.
Then one day, Walt Disney announced that he was building a park. He said it would be "the happiest place on earth." And when I went to Disneyland, I thought it was an incredible place. I was always sad when it was time to leave.
I think experiences like that are glimpses of something much greater that is coming. A place that will never close.
I think God has prewired us, deep down inside, to be homesick for a place we've never been before, and that place is Heaven. We long for it. In fact, the Bible even tells us that God has set eternity in our hearts (see Ecclesiastes 3:11).
One day, this life that we love so much will pass, and we'll enter into the afterlife. If you've put your faith in Jesus Christ, then you're a child of God. You're a citizen of Heaven.
In fact, the Bible teaches that when a Christian dies, he or she goes immediately to Heaven. In 2 Corinthians 5:8 Paul wrote, "We are confident, yes, well pleased rather to be absent from the body and to be present with the Lord" (nkjv).
So, if you have loved ones who have died in faith, they are in Heaven right now. It's hard for non-Christians to wrap their minds around the fact that Christians have such a strong hope.
I don't expect them to understand it. It's a quiet confidence, a supernatural certainty that God gives us.
Where do we find this hope? We find it in the Scriptures. That's why it's a good thing to memorize the Bible and to fill your mind with what the Bible says.
What are you filling your mind with today?
Copyright © 2020 by Harvest Ministries. All rights reserved.
For more relevant and biblical teaching from Pastor Greg Laurie, go to www.harvest.org
and
Listen to Greg Laurie's daily broadcast on OnePlace.com.
Watch Greg Laurie's weekly television broadcast on LightSource.com.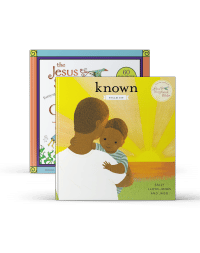 In thanks for your gift, you can receive The Jesus Storybook Bible Coloring Book for Kids and Known.
The Jesus Storybook Bible Coloring Book for Kids and Known by Sally Lloyd-Jones will help children unleash their creativity as they absorb the words that whisper the Lord's name. Activities like coloring will improve your children's pencil grip, help them relax, and develop their imagination.