From Anxiety to Peace - Greg Laurie Daily Devotion - December 5/6, 2020

Weekend, December 5, 2020
From Anxiety to Peace
For since our friendship with God was restored by the death of his Son while we were still his enemies, we will certainly be saved through the life of his Son. (Romans 5:10 nlt)
Do you have peace with God?
It's a peace, the Bible says, that "surpasses all understanding" (Philippians 4:7 nkjv).
There's no relationship with anyone, as wonderful as they may be, that will give you that peace. Wealth and possessions won't give you that peace. Alcohol won't give you that peace. Drugs won't give you that peace. Philosophy won't give you that peace. Even religion won't give you that peace.
Only God can give that peace to you. But as I've often said, before you can have peace with God, you must first have peace with God.
You need to be willing to say, "Lord, I'm tired of fighting with You. I'm tired of running from you. I want to know You. I want to be Your friend."
The apostle Paul wrote, "For since our friendship with God was restored by the death of his Son while we were still his enemies, we will certainly be saved through the life of his Son" (Romans 5:10 nlt).
Christ died for us when we were at our worst, when we were sinners. That's an amazing thing. We did nothing to deserve it. In fact, we were utterly helpless and powerless to resist Satan and to please God in any way.
Yet God sent His son to die for us. Why? Because He loves us and so we can have peace with Him. But you must meet God's conditions: (1) admit you're a sinner, (2) turn from that sin, (3) repent of that sin, and (4) ask Jesus Christ to come into your life to be your Savior and Lord.
Are your heart and mind filled with turmoil, friction, anxiety, fear, and apprehension? You can replace these with the peace of God today. Trust in Him, believe in Him, and He will give you His peace.
Copyright © 2020 by Harvest Ministries. All rights reserved.
For more relevant and biblical teaching from Pastor Greg Laurie, go to www.harvest.org
and
Listen to Greg Laurie's daily broadcast on OnePlace.com.
Watch Greg Laurie's weekly television broadcast on LightSource.com.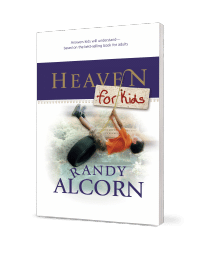 In thanks for your gift, you can receive Heaven for Kids.
Are you a parent, grandparent, mentor, role model, or leader in kids' ministry? You can help the children in your life understand Heaven! Make a gift to Harvest today and receive an incredible resource for answering their questions about eternity in Heaven.
Receive a copy of best-selling author Randy Alcorn's book, Heaven for Kids, when you partner with Harvest this month.