Wednesday, April 1, 2009
Warriors in the Battle
We do not wrestle against flesh and blood...
—Ephesians 6:12
A spiritual battle wages in our world today; and God is looking for men and women who are ready to go into that spiritual battlefield and make a difference.
The battle has been raging since the very beginning, as Satan has tried to keep us apart from God. The apostle Paul described this spiritual struggle when he wrote, "We do not wrestle against flesh and blood, but against principalities, against powers, against the rulers of the darkness of this age, against spiritual hosts of wickedness in the heavenly places" (Ephesians 6:12).
The devil has always opposed Christ, and he will oppose those who follow Jesus Christ.
One of Satan's strategies was to try to stop the Messiah from arriving in the first place. Remember in the book of Exodus when Pharaoh commanded all of the Hebrew baby boys to be killed? That was Satan's plan to wipe out the tribe the Messiah would come from. Satan tried again with Haman in the book of Esther and with King Herod who killed all those babies in Bethlehem, intending to stop the arrival of the Messiah.
Well, those plans didn't work, but the battle continued.
Certainly the devil was at work when Judas Iscariot betrayed the Lord for 30 pieces of silver. You might have thought that Satan was basically successful when nails went through the hands and feet of Jesus on the cross.
But as the devil hammered home those nails he was hammering home his own defeat, because it was the blood of Christ that redeemed us.
Thank God today for that redemption! Let's be warriors in the battle.
Copyright © 2009 by Harvest Ministries. All rights reserved.
Scripture taken from the New King James Version. Copyright © 1982 by Thomas Nelson, Inc. Used by permission. All rights reserved. Bible text from the New King James Version is not to be reproduced in copies or otherwise by any means except as permitted in writing by Thomas Nelson, Inc., Attn: Bible Rights and Permissions, P.O. Box 141000, Nashville, TN 37214-1000.
For more relevant and biblical teaching from Pastor Greg Laurie, go to www.harvest.org
and
to listen to Greg Laurie's daily broadcast on OnePlace.com, click here.
SPECIAL OFFER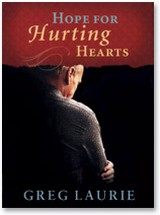 Hope for Hurting Hearts
In times of tragedies and trials, certain things become evident:
This life will have its sorrows
God loves us
Jesus weeps in our times of pain
God can be glorified through human suffering
Hope for Hurting Hearts, Pastor Greg Laurie's new book, examines these truths, revealing God's love and care for us, and shows how we can find hope, even in the midst of the most unbearable pain and sorrow.
You can have your own copy of Hope for Hurting Hearts by Greg Laurie in appreciation for your gift to Harvest Ministries this month.