Wednesday, April 15, 2009
Gone Fishing
Simon Peter said to them, "I am going fishing." They said to him, "We are going with you also."
—John 21:3
How many times have you wanted to leave your problems behind, get away from it all, and hang the "Gone fishing" sign on your office door?
After the crucifixion and resurrection of Jesus, the disciples were waiting in Galilee for Jesus as He had instructed them. Not knowing what else to do, they decided, under the leadership of Peter, to go out and fish.
The apostle John tells the story like this:
Simon Peter said to them, "I am going fishing." They said to him, "We are going with you also." They went out and immediately got into the boat, and that night they caught nothing. (John 21:3–4)
Well, these disciples went out fishing and they caught nothing. That was not a bad thing. But Jesus had them catch nothing to prove a point, which was the futility and uselessness of living our lives without the direction and blessing of Jesus.
You can aim at your goals. You can work hard in business, work hard at everything you hold dear, and still your dreams may not be fulfilled because you did not have the Lord direct your life. You did not invite Him to bless your plan or, more importantly, direct you in your plans.
So often we will think, It's my life and my future and my career and my family and my money. We forget that we belong to God.
We need to remember—it's God's life. It's His future.
He is so gracious and loving. He wants to guide and direct your steps. Did you know that? God has a custom-designed plan just for your life.
Keep that in mind as you think about your future. Say, "Lord, what do You want me to do? I don't want to go fishing and pull up empty nets. I want You to direct me. I want You to guide me."
Copyright © 2009 by Harvest Ministries. All rights reserved.
Scripture taken from the New King James Version. Copyright © 1982 by Thomas Nelson, Inc. Used by permission. All rights reserved. Bible text from the New King James Version is not to be reproduced in copies or otherwise by any means except as permitted in writing by Thomas Nelson, Inc., Attn: Bible Rights and Permissions, P.O. Box 141000, Nashville, TN 37214-1000.
For more relevant and biblical teaching from Pastor Greg Laurie, go to www.harvest.org
and
to listen to Greg Laurie's daily broadcast on OnePlace.com, click here.
SPECIAL OFFER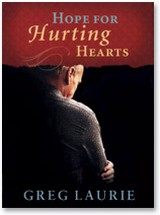 Hope for Hurting Hearts
In times of tragedies and trials, certain things become evident:
This life will have its sorrows
God loves us
Jesus weeps in our times of pain
God can be glorified through human suffering
Hope for Hurting Hearts, Pastor Greg Laurie's new book, examines these truths, revealing God's love and care for us, and shows how we can find hope, even in the midst of the most unbearable pain and sorrow.
You can have your own copy of Hope for Hurting Hearts by Greg Laurie in appreciation for your gift to Harvest Ministries this month.