Necessary Words
"Enter by the narrow gate; for wide is the gate and broad is the way that leads to destruction, and there are many who go in by it. Because narrow is the gate and difficult is the way which leads to life, and there are few who find it." (Matthew 7:13)
A person cannot fully appreciate the message of the gospel until they fully understand how desperate their situation is.
If we present Jesus Christ as a mere additive to a person's life, then we are missing the point. The message of the gospel is not, "Become a Christian, because you will have a happier life and your teeth will be whiter." Jesus is far more than someone who merely enhances our lives.
Jesus saves us from eternal separation from God. And that is the situation of every person. So we have to broach the subject of sin. Yet we are afraid to do this sometimes.
When he preached at Pentecost, the apostle Peter called sin just what it is: sin. So if something is a sin, we need to say it is a sin, because we do not want a person to be separated from God and end up in hell. And yes, there is a hell.
No one in the Bible talked more about hell than Jesus. That may come as a shock to some: Well, I thought Jesus was all about loving us—and He talked about hell? Yes. Why? Because He is all about loving us, and as God, He knows the horrors of it. The last thing He wants is for anyone made in His image to spend eternity separated from Him.
Jesus said, "Enter by the narrow gate; for wide is the gate and broad is the way that leads to destruction, and there are many who go in by it. Because narrow is the gate and difficult is the way which leads to life, and there are few who find it" (Matthew 7:13–14). Just as there is an eternal heaven, there is also an eternal hell. You can't have one without the other.
Summary sentence: Jesus taught about hell because He loves us!
Tags: Gospel, sin, Pentecost, hell
Copyright © 2012 by Harvest Ministries. All rights reserved.
Unless otherwise indicated, Scripture taken from the New King James Version. Copyright © 1982 by Thomas Nelson, Inc. Used by permission. All rights reserved.
For more relevant and biblical teaching from Pastor Greg Laurie, go to www.harvest.org
and
Listen to Greg Laurie's daily broadcast on OnePlace.com.
Watch Greg Laurie's weekly television broadcast on LightSource.com.
SPECIAL OFFER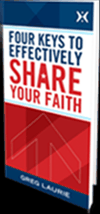 IIn appreciation for your gift this month to Harvest Outreach Ministries, we want to send you Four Keys to Effectively Share Your Faith.
God's primary way of reaching people is through people. Yet studies have shown that only one out of every 20 Christians has ever shared the gospel. You might be saying, "I want to share the gospel—I just don't feel like I know enough." Through this newly revised and updated booklet, Four Keys to Effectively Share Your Faith, you can learn the simple principles that will equip you to use the open doors around you.
Your gift brings relevant teaching from God's Word through our daily broadcast A New Beginning, our crusades, our online ministry channel, and this year across the country through Harvest America.