Friday, December 11, 2009
Take Care of Your Heart
But in accordance with your hardness and your impenitent heart you are treasuring up for yourself wrath in the day of wrath and revelation of the righteous judgment of God.
—Romans 2:5
Where is the easiest place to get a hardened heart? In church. The same truth that will set one person free can cause another person to become more hardened against the things of God.
It really depends on how you listen and respond when you are in the presence of God's Word being proclaimed and God's people as they are worshiping. The same sun that softens the wax also hardens the clay. And the same truth that liberates one will cause another to say, "Well, I have heard that before. I know this. You can't tell me anything new."
Here is the problem: people with a hardened heart have never turned from darkness to light. They are just educated unbelievers. They may know more than the person who has never set foot in a church, but they are not one step closer to the kingdom of God. In fact I would venture to say they may even be a little further from the kingdom of God than the person who hasn't been to church. Why? Because when someone who has never been to church comes and hears it all for the first time, he or she might believe on the spot. But those who have heard it their whole lives and think they know it all might be so hardened and resistant that they might not believe.
They will end up like Herod Agrippa who put off a decision to believe, or the rich young ruler who said no to following Jesus, or Judas Iscariot who spent hours on end with God in human form, only to betray Him for 30 pieces of silver.
No matter how much we may try, we can't live in two worlds. It is not enough to be exposed to the truth. We must act on it.
Copyright © 2009 by Harvest Ministries. All rights reserved.
Scripture taken from the New King James Version. Copyright © 1982 by Thomas Nelson, Inc. Used by permission. All rights reserved.
For more relevant and biblical teaching from Pastor Greg Laurie, go to www.harvest.org
and
to listen to Greg Laurie's daily broadcast on OnePlace.com, click here.
SPECIAL OFFER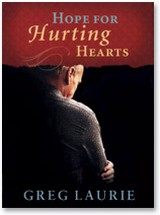 Hope for Hurting Hearts
In times of tragedies and trials, certain things become evident:
This life will have its sorrows
God loves us
Jesus weeps in our times of pain
God can be glorified through human suffering
Hope for Hurting Hearts, Pastor Greg Laurie's new book, examines these truths, revealing God's love and care for us, and shows how we can find hope, even in the midst of the most unbearable pain and sorrow.
You can have your own copy of Hope for Hurting Hearts by Greg Laurie in appreciation for your gift to Harvest Ministries this month.