Friday, December 12, 2008
The Suffering Servant
He was wounded for our transgressions, He was bruised for our iniquities; the chastisement for our peace was upon Him, and by His stripes we are healed.
—Isaiah 53:5
It has been said that ignorance is bliss and what you don't know, won't hurt you. I think there is some truth to those statements. If I had the opportunity to know my entire future from this day forward, I would not want to know.
But Jesus, being God, knew everything about His future. As He prayed in the Garden of Gethsemane on the eve of His death, Jesus knew He would die on a Roman cross. He knew of His impending humiliation, scourging, and spiritual anguish. The night prior to Jesus' crucifixion was an excruciating time of suffering in His life.
Here in the Garden of Gethsemane, we can see how Christ's sorrow and grief fulfilled Isaiah's prophecy that the Suffering Servant would be a "Man of sorrows and acquainted with grief" (Isaiah 53:3).
We will never even begin to grasp the anguish that Jesus experienced at this moment. But remember this. Hebrews 4:15–16 tells us, "For we do not have a High Priest who cannot sympathize with our weaknesses, but was in all points tempted as we are, yet without sin. Let us therefore come boldly to the throne of grace, that we may obtain mercy and find grace to help in time of need."
The author of Hebrews is saying you are not alone. Jesus knows what you are going through in life. He is a High Priest who has experienced the troubles that you face. Jesus was in this horrendously difficult time experiencing deep loneliness and abandonment.
So remember, the next time you are suffering, you can trust that Jesus knows your pain. He is your High Priest, who sympathizes with you. Most importantly, you can come to Jesus for help.
Copyright © 2008 by Harvest Ministries. All rights reserved.
Scripture taken from the New King James Version. Copyright © 1982 by Thomas Nelson, Inc. Used by permission. All rights reserved. Bible text from the New King James Version is not to be reproduced in copies or otherwise by any means except as permitted in writing by Thomas Nelson, Inc., Attn: Bible Rights and Permissions, P.O. Box 141000, Nashville, TN 37214-1000.
For more relevant and biblical teaching from Pastor Greg Laurie, go to www.harvest.org.
SPECIAL OFFER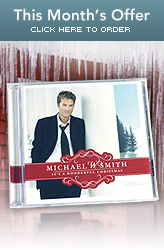 It's a Wonderful Christmas
"I hope that this ministry has been something that has brought encouragement and hope to you during this last year. Your gift is important this month because it is our desire to be there again for you this coming year."
-Greg Laurie
Michael W. Smith has put together a new Christmas album that you will want to be a part of your Christmas listening for years to come, called It's a Wonderful Christmas. This album is filled with songs that honor and glorify God, and will lift your spirits and help you remember what this season is really all about.
You can have your own copy of It's a Wonderful Christmas in appreciation for your gift sent to Harvest Ministries this month.