Monday, December 15, 2008
Taking a Stand
But Daniel purposed in his heart that he would not defile himself with the portion of the king's delicacies, nor with the wine which he drank; therefore he requested of the chief of the eunuchs that he might not defile himself. Now God had brought Daniel into the favor and goodwill of the chief of the eunuchs.
—Daniel 1:8–9
Under Babylonian rule, Daniel turned his back on the luxuries of the king's court because eating defiled food would have been a compromise of his faith. God honored Daniel's stand and gave the chief of the eunuchs great respect for Daniel, because Daniel's stand impressed him.
Daniel's life is living proof of what the Bible says in Proverbs 16:7, "When a man's ways please the Lord, he makes even his enemies to be at peace with him" (NIV).
It is so rare to find people who believe in something today. When someone says, "I believe this is right—and this is a stand I'm going to make," nonbelievers may sort of laugh at them.
But I believe, that in many cases, deep down inside, some nonbelievers are impressed. They don't see that kind of thing anymore—someone who actually has convictions and believes in something.
They may argue with you. They may challenge you, but in many cases, they don't argue because they disagree. They argue with you in order to find out if you really believe what you say you believe.
In reality, they desperately want to have a moral grid in their life. They want to have a set of convictions. They want to have a set of beliefs—and they don't have them.
So those people who may be giving you the most grief, may be the ones who are really seeking spiritually. They are the people who really want to know what life is all about.
Daniel ate vegetables and water instead of the luxuries of the king's table. He gave up a few things—but a little with God is better than lots without Him.
Copyright © 2008 by Harvest Ministries. All rights reserved.
Scripture taken from the New King James Version. Copyright © 1982 by Thomas Nelson, Inc. Used by permission. All rights reserved. Bible text from the New King James Version is not to be reproduced in copies or otherwise by any means except as permitted in writing by Thomas Nelson, Inc., Attn: Bible Rights and Permissions, P.O. Box 141000, Nashville, TN 37214-1000.
For more relevant and biblical teaching from Pastor Greg Laurie, go to www.harvest.org.
SPECIAL OFFER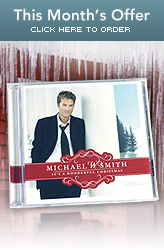 It's a Wonderful Christmas
"I hope that this ministry has been something that has brought encouragement and hope to you during this last year. Your gift is important this month because it is our desire to be there again for you this coming year."
-Greg Laurie
Michael W. Smith has put together a new Christmas album that you will want to be a part of your Christmas listening for years to come, called It's a Wonderful Christmas. This album is filled with songs that honor and glorify God, and will lift your spirits and help you remember what this season is really all about.
You can have your own copy of It's a Wonderful Christmas in appreciation for your gift sent to Harvest Ministries this month.