Wednesday, December 17, 2008
The Purpose of a Testimony
But God demonstrates His own love toward us, in that while we were still sinners, Christ died for us.
—Romans 5:8
When you tell other people about what God has done for you, you are sharing your testimony. A testimony is when you share your story of how you came to faith. Every Christian has a testimony.
Some Christians have dramatic testimonies where they tell of being delivered from a life of drug addiction or crime or some sordid deeds. Other Christians don't have testimonies that are quite as dramatic—but they are just as significant.
I like to hear how people came to Christ, but I don't like it when people go into gory details about their past. Then there are testimonies where people tell how much they have given up for Jesus. They'll say things like, "I gave up this and that for Jesus. I have made such sacrifices for the Lord. I have done it all for Him!"
Your testimony is not about what you gave up for Jesus. It's about what He gave up for you. Don't share what you have done for Jesus. Share what Jesus has done for you. Jesus is the one who has done the work. It is Jesus whom we are proclaiming.
A good, strong testimony will lift up what Christ has accomplished. The fact of the matter is that all of us were sinners hopelessly separated from God, traveling in the same boat on our way to hell; and the same gospel came and transformed us. That is the testimony we all have.
Copyright © 2008 by Harvest Ministries. All rights reserved.
Scripture taken from the New King James Version. Copyright © 1982 by Thomas Nelson, Inc. Used by permission. All rights reserved. Bible text from the New King James Version is not to be reproduced in copies or otherwise by any means except as permitted in writing by Thomas Nelson, Inc., Attn: Bible Rights and Permissions, P.O. Box 141000, Nashville, TN 37214-1000.
For more relevant and biblical teaching from Pastor Greg Laurie, go to www.harvest.org.
SPECIAL OFFER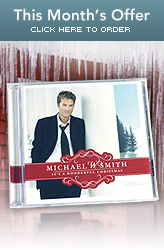 It's a Wonderful Christmas
"I hope that this ministry has been something that has brought encouragement and hope to you during this last year. Your gift is important this month because it is our desire to be there again for you this coming year."
-Greg Laurie
Michael W. Smith has put together a new Christmas album that you will want to be a part of your Christmas listening for years to come, called It's a Wonderful Christmas. This album is filled with songs that honor and glorify God, and will lift your spirits and help you remember what this season is really all about.
You can have your own copy of It's a Wonderful Christmas in appreciation for your gift sent to Harvest Ministries this month.